A massive wind farm in northeastern Oregon, which very well could be the largest to date once completed, was yesterday offered a conditional commitment to provide a partial guarantee for a $1.3 billion loan by the U.S. Department of Energy. The Caithness Shepherds Flat wind project would, at full capacity, be capable of producing 845-megawatts (MW) of wind powered energy.
The Caithness Shepherds Flat wind project, according to a press release, is sponsored by Caithness Energy LLC and General Electric (GE) Energy Financial Services, the latter of which is also involved in a nearby Idaho wind farm project that will generate 183 MW. The Oregon project, according to Oregon Public Broadcasting's Ecotrope environmental blog, is a "338-turbine project being developed on 30 square miles near Arlington" that reportedly will "avoid more than 1.2 million tons of carbon dioxide a year – equivalent to more than 200,000 cars."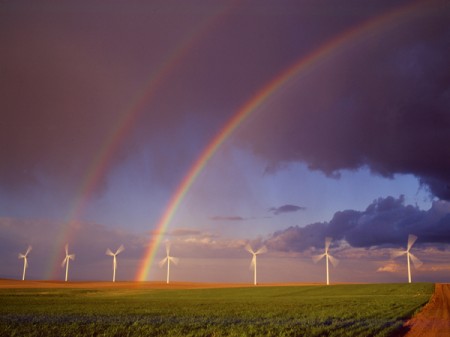 The Caithness Shepherds Flat wind project consists of 338 wind turbines supplied by GE. Once completed, the project will sell 100 percent of the power generated to Southern California Edison through 20-year fixed price power purchase agreements. According to Caithness, the project will directly create 400 construction jobs, followed by 35 permanent jobs on site.
As for the loan, this project represents the largest to date to "receive an offer of a conditional commitment for a loan guarantee under the Financial Institution Partnership Program (FIPP), a Department of Energy program supported by the American Recovery and Reinvestment Act." The $1.3 billion loan is expected to be funded by a group of institutional investors and commercial banks led by Citi, as lender-applicant and joint lead arranger, and three other joint lead arrangers.
"Thanks to the Recovery Act, we are creating the clean energy jobs of the future while positioning the U.S. as a world leader in the production of renewable energy," said Energy Secretary Steven Chu in a statement.  "This project is part of the Administration's commitment to doubling our renewable energy generation by 2012 while putting Americans to work in communities across the country."
Like what you are reading? Follow us on RSS, Twitter and Facebook to learn more and join the green technology discussion. Have a story idea or correction for this story you are reading? Drop us a line through our contact form.