Community colleges have long been ground-zero for local job-force training. Now, as green collar jobs continue to grow even as the overall economy struggles, community colleges have increasingly been focusing on offering students green job skills.
The recently launched SEED Center is a leadership initiative, free resource center, and online sharing environment for community colleges interested in scaling up their green job training programs, in order "to educate America's 21st century workforce to compete in the green economy."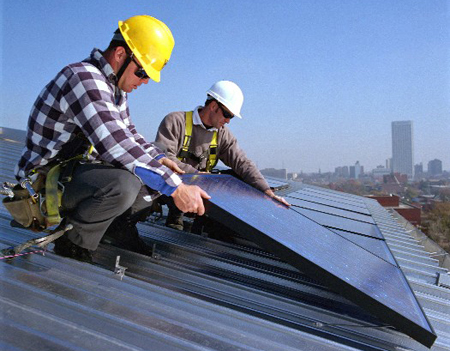 SEED–an acronym for Sustainability Education and Economy Development–is a joint effort between the American Association of Community Colleges (AACC) and ecoAmerica. Their vision is to enable the nation's 1,200 community colleges to ramp up their green economy job skills. Since the launch of this initiative at the recent meeting of the Association for the Advancement of Sustainability in Higher Education in Denver, over 300 community colleges have signed on.
The SEED Center offers free resources such as sample curriculums, industry and employment information, case studies, as well as support for program implementation, faculty development, and funding.  Initial subject areas include solar, wind, energy efficiency, green building and sustainable education.
Like what you are reading? Follow us on RSS, Twitter and Facebook to learn more and join the green technology discussion. Have a story idea or correction for this story you are reading? Drop us a line through our contact form.