ECOtality has a goal of installing nearly 15,000 electric-vehicle charging stations through the EV Project, its government and industry backed program. So the announcement that the company will have its Blink charging stations at 12 West Coast Best Buy stores by next spring isn't about big numbers — it's about exploring the fit with a potential partner and gathering consumer-charging data.
It didn't reveal exactly how it will do so, but ECOtality said it intends "to analyze real-world experiences of EV users" with the Best Buy program, and will use that information in guiding the location of additional Blink charging stations in general, and possibly at more Best Buy stores.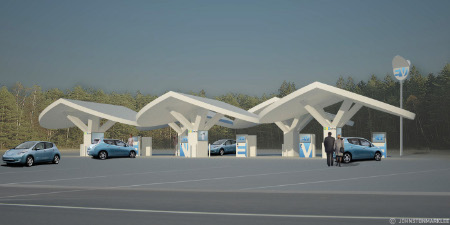 The EV Project has big money behind it, including a grant of $114.8 million through the American Recovery and Reinvestment Act (ARRA) and matching private investments that have brought the total value of the project to approximately $230 million, ECOtality said. The program is aimed at 16 cities in six states — Oregon, Washington, California, Arizona, Tennessee and Texas — and the District of Columbia. The Best Buy stores getting charging stations are in Arizona (Phoenix and Tucson), California (Los Angeles and San Diego) and Seattle.
Meanwhile, Coulomb Technologies has its ChargePoint America program, hoping to provide nearly 5,000 charging stations in Austin, Texas; Detroit; Los Angeles; New York; Orlando, Fla.; Sacramento, Calif.; the San Jose/San Francisco Bay Area; Redmond, Wash.; and the District of Columbia. It's got a budget of $37 million, including $15 million from the Recovery Act.
Like what you are reading? Follow us on RSS, Twitter and Facebook to learn more and join the green technology discussion. Have a story idea or correction for this story you are reading? Drop us a line through our contact form.