111 alternative fuel vehicle teams competed, but in the end only three were chosen to share a $10 million pot to help build their car of tomorrow dreams. Such was the ending today of the 30 month long Progressive Insurance Automotive X Prize event, which saw 136 vehicles entered and slowly eliminated in a competition that started in 2008.
The winners are: in the $5 million mainstream class, the Edison 2 "Very Light Car #98," which was fueled by E85 ethanol and achieved a fuel economy of 102 MPGe; in the $2.5 million alternative side-by-side class, the Li-ion Motors Corp "Wave II," which was powered by an electric battery and achieved a fuel economy of 187 MPGe; and, in the $2.5 million alternative tandem class, the X-Tracer Team Switzerland "E-Tracer #79," which was powered by an electric battery and achieved a fuel economy of 205.3 MPGe.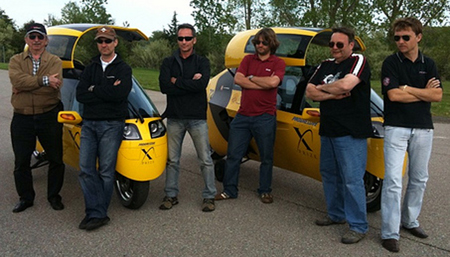 Besides getting some hefty cash prizes, the winners were paraded before an audience of auto industry, business and government leaders, some of which could help this small outfits to go big time.In addition, according to the X Prize Foundation, "under a U.S. Department of Energy-funded technical assistance program, qualified Progressive Insurance Automotive X PRIZE competitors will also gain funding support for access to key automotive expertise and test facilities. The aim of the program is to assist teams in readying their vehicles and technologies for introduction to the market."
The stated goal of the competition in which these winners emerged was to "inspire a new generation of viable, safe and super fuel-efficient vehicles capable of achieving 100 miles per gallon or the energy equivalent (MPGe)." It was quite a long journey for all the competitors, who had to go through vehicle and business plan development; on-track testing at Michigan International Speedway, which included dynamic safety testing by partner Consumer Reports; and laboratory verification at the Department of Energy's Argonne National Lab. All were certainly worthy vehicles of tomorrow.
Like what you are reading? Follow us on RSS, Twitter and Facebook to get green technology news updates throughout the day and chat with other green tech lovers.