It's going to happen—not with the sput-sput-sputtering of a conventional vehicle running out of gasoline, probably more like a barely audible, fading whir. But electric cars, with their modest range, will run out of fuel. What to do? The Swiss company Nation-E thinks it has an answer: AAA or some similar service will be dispatched to stranded EVs and powered up using the NationMobile Angel Car.
The company's Angel Car Mobile Service Unit—said to be the first of its kind—is equipped with a 230V charger that in 15 minutes can pump 2-3 kWh of power into a vehicle. If the stranded driver is in luck, a home or a charging station is within 18 miles, because that's the driving distance the charge will typically allow.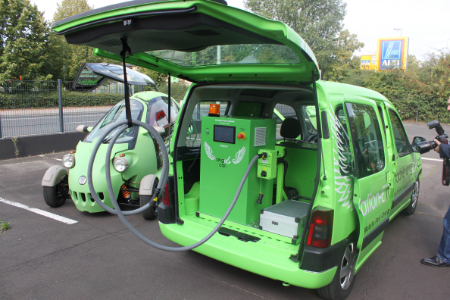 Nation-E says an advanced electrical automotive engineering degree won't be required to operate the charger. The touch-screen equipped system is said to be smart enough to determine the stranded vehicle's battery specifications and guide the quantity and intensity of energy flow. The company says its system can be installed on a standard service car or roll on a dedicated Angel Car unit.
Like what you are reading? Follow us on RSS, Twitter and Facebook to get green technology news updates throughout the day and chat with other green tech lovers.