Peugeot just put out word through their restricted-access media site about the celebration of their 200th anniversary. It wasn't a party they had, no – instead they put up notice and photos of an absolutely gorgeous two-seater roadster called the EX1 which we think we've just completely fallen in love with.
The all-electric Peugeot EX1, according to Peugeot [PDF], is the company's latest concept car. Based upon the body design of the SR1 concept showcased earlier this year, the EX1 is already said to have broken several world records for acceleration from a standing start. It has an ultra-light body powered by two electric motors that give it a cumulative maximum power of 250 kW (340 bhp) and four-wheel drive. There's also an immediately available constant maximum torque of 240 Nm at the front and rear.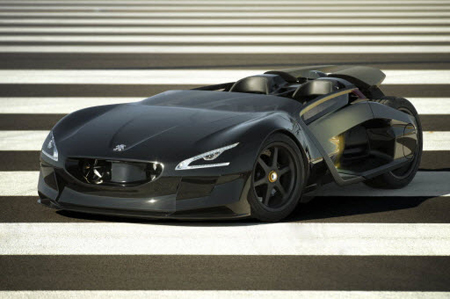 There's a lot more in the way of details on this car, which you can read via the link above, but a few noted items include a monocoque body structure manufactured from a carbon/honeycomb composite; a requirement that driver and passenger climb into the passenger compartment through a reverse-opening door, giving access to the two sports bucket seats; and the fact that with "the presence of harnesses inside the car, the occupants are also protected by the height of the carbon passenger cell, which has sufficient overhead clearance to include a roll-over protection bar." Not that you'd be driving this fast enough to need that roll-over bar, right? Well, maybe you might….
Like what you are reading? Follow us on RSS, Twitter and Facebook to get green technology news updates throughout the day and chat with other green tech lovers.