It took a series of complex financial maneuvers, but the energy produced from one of the nation's largest wind projects—one made possible, in part, by federal stimulus grants totaling $220 million—has found a home. And it's Los Angeles.
Cannon Power Group said the Southern California Public Power Authority (SCPPA) will pay it $547 million in advance for a 20-year block of power from the Windy Flats project along the Columbia River in Washington State. The deal closed two weeks after the SCPPA raised more than a half-billion dollars in a municipal-bond sale.  "This uniquely structured transaction is a true win-win for both parties," Cannon Presisdent Gary Hardke said in a press release.   "It combined SCPPA's low-cost, tax exempt bond financing with the federal stimulus grant program to produce a very attractive long-term cost of renewable power."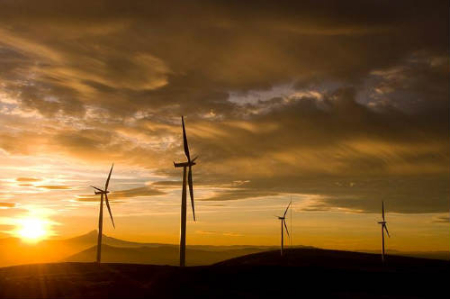 From the Cannon press release it was impossible to determine exactly what the price of the power would be to consumers. According to Bloomberg News, SCPPA will supply the Windy Flats power to the Los Angeles Department of Water and Power and the city of Glendale.
The Windy Flats project, near Goldendale, Wash., went online earlier this year and is being counted on to produce 262 megawatts of electricity. Additional capacity in the area—the completed project will span over 26 miles along the Columbia River—will bring Windy Point/Windy Flats production to 500 MW. Under California law, utilities in the state are required to obtain 20 percent of their power from renewable sources by the end of this year, rising to 33 percent by 2020.
Like what you are reading? Follow us on RSS, Twitter and Facebook to get green technology news updates throughout the day and chat with other green tech lovers.