Fun urban driving with zero emissions? It is possible, at least according to the Mini brand of BMW. To this end Mini has unveiled ahead of the Paris Auto Show its Scooter E Concept. Yes, we will definitely take one of these.
The Mini Scooter E Concept, according to BMW, transfers the Mini brand's "hallmark driving fun to the two-wheel segment for the first time." The scooter is powered by a lithium-ion battery which can easily be recharged at any conventional power socket using an on-board charging cable. It comes in two individual design versions, seen below, and has 11-inch rims to give it a more pronounced look compared to other scooters. It is said by BMW that "the instantaneous pick-up of electric drive systems, plus the vehicle's low weight and compact dimensions, ensure maximum agility in typical traffic conditions on urban roads."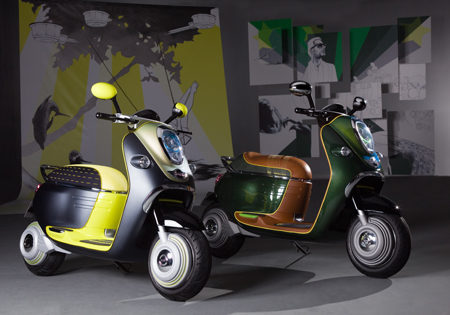 What's very interesting to note around this concept study is the high degree of interaction between one's smartphone and the Scooter E. The cockpit of the scooter comprises a Centre Speedo in the circular shape familiar from Mini, with a smartphone integrated in the middle. Once the smartphone is docked, BMW said, the scooter is ready to go as the smartphone acts as "the vehicle key, display and central control element." While the scooter is in motion, the smartphone can be used as a navigation system, music player or telephone as required, with Bluetooth integration being available with compatible helmets that are fitted with "a microphone and headphones so that riders are able to use the telephone function or access their personal music collection while on the road."
As for the charging of the scooter, BMW notes that "plugs and cables are accommodated underneath a cover similar to the round tank flap in a MINI car. After opening the illuminated flap, the plug and charging cable can be pulled out to a length of up to five metres and connected to the power system. After the battery has been charged up, a button-operated spring mechanism ensures that the cable is retracted and coiled in a space-saving compartment."
And, just in case you like this electric scooter concept, you might want to check out this similar one unveiled by Daimler's smart brand around the same time. Competition is good!
Like what you are reading? Follow us on RSS, Twitter and Facebook to get green technology news updates throughout the day and chat with other green tech lovers.