What is said to be the world's largest offshore wind farm has begun producing lots and lots of clean energy in the waters off the United Kingdom, Swedish energy company Vattenfall announced today. The Thanet Wind Farm, as it is being called, sports 100 large wind turbines and can reportedly produce enough energy at peak capacity to meet the annual average consumption needs of over 200,000 British households.
The £800 million wind farm has a maximum output capacity of 300 megawatts (MW) and ups the United Kingdom's total installed wind power over the 5,000 MW mark. The construction of this mega wind farm project took over just over two years, with the farm itself expected to operate for at least 25 years. Each turbine, according to Vattenfall, "is up to 115 metres tall at its highest point. The wind farm covers an area of 35 square kilometres, which is enough to cover 4,000 football pitches."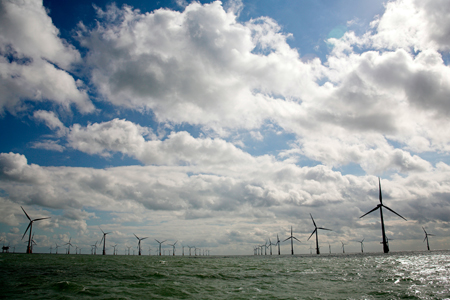 "With Thanet Offshore Wind Farm," said CEO and President of Vattenfall, Øystein Løseth, in a statement, "Vattenfall has taken a major step towards doubling its generation from wind power until 2011 and we continue to lead the way in offshore wind development. Wind power will be a corner-stone of delivering both profitability and sustainability for Vattenfall in the years to come. This project would not have been possible without the British Government's active support and its commitment to renewable energy."
Like what you are reading? Follow us on RSS, Twitter and Facebook to get green technology news updates throughout the day and chat with other green tech lovers.