Luxury auto brand Jaguar is celebrating 75 years of making sleek, expensive cars. It is bringing the party to the Paris Auto Show with the unveiling of its C-X75 concept four-wheel drive electric sports car, which is definitely giving the also just unveiled Lotus Elite hybrid a run for the money in the looks department.
The Jaguar C-X75, according to the auto company, is anything but your dad's Jaguar. It is driven by four powerful 195bhp (145kW) electric motors — one for each wheel — that produce 778bhp and an astonishing total torque output of 1,180lb ft (1,600Nm). It is capable of reaching 205mph (330km/h), sprinting from 0-62mph (100km/h) in just 3.4 seconds and offering blistering acceleration from 50-90mph (80-145km/h) in just 2.3 seconds. When running solely on battery power it can go 68 miles, which can be extended via two micro gas-turbines, spinning at 80,000 rpm, that generate enough electricity to extend the range to 560 miles (900 km); and produce just 28 grams of CO2 per kilometer from the car's plug-in charge capability.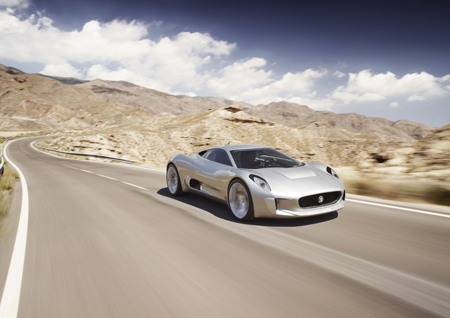 On the inside, it is all about comfort. Jaguar said that with the seats fixed, the steering wheel, controls, main binnacle and pedal box all adjust towards the driver.  A new interface for the driver has also been created for the C-X75 using high-resolution TFT screens, with a display in the center console supporting the driver "in extracting the full potential of the C-X75 by seamlessly managing information." In a main driver information screen, housed within the instrument binnacle, "needles float on the periphery of the twin cowls and sweep round the outer edge to display the status and rpm of the two turbines."
"The C-X75 is a tribute to the people who shaped the iconic Jaguars that are revered to this day," said Mike O'Driscoll, Managing Director, Jaguar Cars, in a statement. "By making it an innovative test-bed for the technologies of tomorrow, it also ensures that our reputation for engineering excellence will continue for another 75 years and beyond."
Like what you are reading? Follow us on RSS, Twitter and Facebook to get green technology news updates throughout the day and chat with other green tech lovers.