Eddy, the vertical axis wind turbine that produces up to 600 W of energy using wind from any direction, now has a brother. A big brother. Following up on the turbine it introduced earlier this year, Urban Green Energy has unveiled Eddy GT, in many ways the spittin' image of Eddy but upsized to produce 1kW of energy. Big bro also comes with grid-tie technology, so that when the wind really howls, its owners can sell power back to their utility.
CEO Nick Blitterswyk said in a press release that Urban Green Energy was, yes, "blown away by the response to our launch of eddy." He added that "the demand for a more powerful, grid-tie version of eddy shows that alternative energy solutions are what consumers want."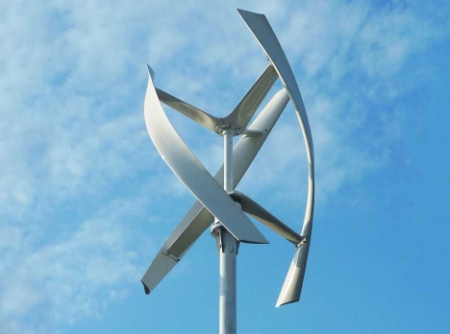 As it did with the Eddy, Urban Green Energy is promoting the Eddy GT's quiet nature and ease of use. It notes that the turbine generates just 38dB at 12m/s wind speed—less noise than normal conversation (60dB), the company claims. And, says Urban Green Energy, the device can be assembled in an hour and mounted on a pole or rooftop. The turbine itself is priced at $6,990, with the electronics that go with it costing an additional $3,650. Mounting options range from around $1,000 to nearly $3,000.
Like what you are reading? Follow us on RSS, Twitter and Facebook to get green technology news updates throughout the day and chat with other green tech lovers.