What is being called the first LEED Platinum affordable green housing community of its kind in the nation is set to break ground soon in Jerseyville, Illnois. The Lexington Farms project, which will consist of 32 single family homes, is being developed by Capstone Development Group and, according to Green Tech Gazette, will make use of several green technologies to achieve its LEED designation.
The Alliance for Environmental Sustainability, which is the LEED for Homes provider associated with this project, said that these homes will promote "net zero, green living" in a St. Louis suburban cornfield in southern Illinois. Each home will be approximately 1,230 square feet and consist of three bedrooms, two full bathrooms and an attached two-car garage. They will individually be powered by "roof-mounted solar panels on all homes, as well as wind turbines throughout the subdivision. Even the streetlights will be powered by wind and solar."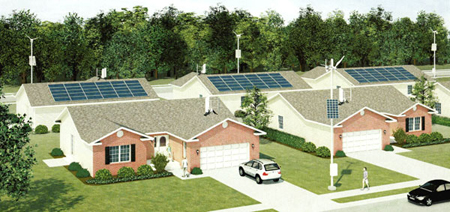 A wide array of other green features will be used in the project, including sustainable landscape practices, energy efficient appliances, low VOC paints and "extensive' use of recycled materials. These homes are being offered to a market where the median family income is 36% lower than the rest of Illinois, with one-third of all families in Jerseyville earning less than $25,000 per year.
Now, to be clear, these homes are said not to have been certified LEED Platinum as of yet – that reportedly comes at completion of the project. The homes will be available for rental/lease only it looks like as well at a cost of for $590 per month. It is expected that the solar panels, wind turbines and other technology will reduce the utility bills to $0. Financing for the development to keep costs down, according to those behind it, includes Federal Tax Credit Equity from the National Equity Fund and additional funding from the Illinois Housing Development Authority for the long term.
Like what you are reading? Follow us on RSS, Twitter and Facebook to get green technology news updates throughout the day and chat with other green tech lovers.