It's been several months now since GM sent electric vehicle sticker shock through some with its $41,000 Volt price tag. Now comes along electric vehicle start up Coda, debuting its all electric 2011 sedan at $44,900 before incentives and rebates. Huh?
While it isn't clear what's going through the minds of the people at Coda in setting the price even higher than the Volt – which has GM's marketing muscle behind it to make that vehicle's price tag perhaps work with consumers – one thing is clear: Coda seems to believe there will be enough demand for its 100% electric, four-door, five-passenger sedan to warrant the pricing. The nearly $45,000 price tag does go down, of course, with federal tax savings and state level tax rebates, so that might make it even more interesting for many. It will also have to contend though with the Nissan Leaf and its $32,780 MSRP before tax incentives.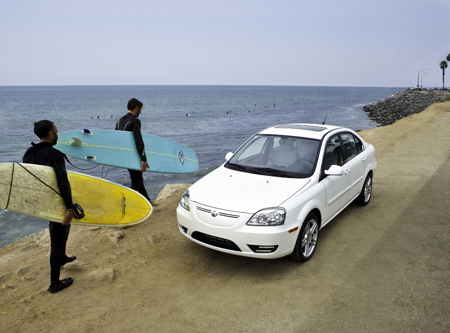 Coda is taking $499 refundable deposits for its 2011 electric vehicle, which it plans to offer via direct-to-consumer sales. The electric car reportedly will have a range of 120 miles. It looks as if the vehicle will initially be available in California only, though plans are also in the works for sales in Hawaii in the third quarter of next year. The company will launch California flagship locations for car sales in Santa Monica and the San Francisco Bay Area, with additional satellite stores located in high-traffic shopping centers throughout the state.
Features of the Coda electric vehicle include a 33.8 kWh, 333V Lithium-ion (iron phosphate) electric battery, an "active thermal management" system that reportedly will keep the battery system "at an ideal operating temperature at all times," a charging time of around six hours via a 220V charger, an estimated cost to charge the vehicle of under $3 (based upon average nighttime (off-peak) electricity rates in the U.S) and a wide variety of creature comforts and safety features.
Limited consumer deliveries are slated for the end of 2010 with a production target of 14,000 vehicles by the end of 2011.
Like what you are reading? Follow us on RSS, Twitter and Facebook to get green technology news updates throughout the day and chat with other green tech lovers.