Cape Cod has many natural wonders, and one of them is brand-new. The Massachusetts island is now home to the Truro residence, which recently won the 2010 Grand Design Award from Ecohome magazine, showcasing the "best integration of design and performance" from homes across the country.
This 4,000 sf oceanfront vacation home sits 115 feet above sea level overlooking Cape Cod Bay. Despite its size and large, ocean-facing windows, this home approaches net zero in its energy usage, thanks to a high-performance building envelope, geothermal heating and cooling and photovoltaic panels. The house is surrounded by 1.7 acres landscaped with native plants.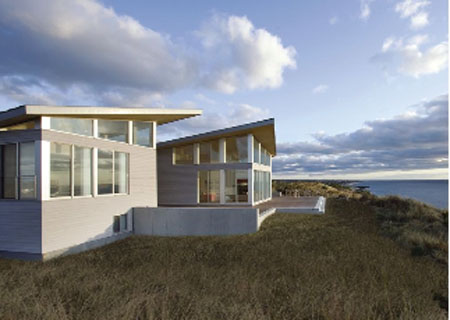 Because occupancy of this home is subject to extreme fluctuations (it serves as both a weekend home for the couple who owns it, and a vacation home for as many as 20 family members) the design of the home presented real challenges to the architects behind the project, Stephanie Horowitz and Ben Uyeda of ZeroEnergy Design. In the end, they settled on physical barriers that allow for many of the rooms to be shut off from heating and cooling for most of the year.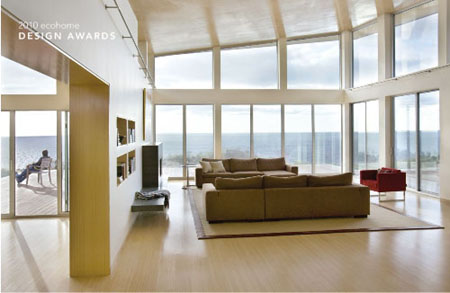 "We are thrilled to receive the Grand Award, and have our work singled out as an example of design excellence and sustainability," said Horowitz, in a statement. "Our exceptional team helped to make this home both beautiful and high performance."
Like what you are reading? Follow us on RSS, Twitter and Facebook to get green technology news updates throughout the day and chat with other green tech lovers.