There are a number of good nationwide directories out there that make it easier to recycle non-curbside items. One of them–1-800-Recycling.com–now wants to make recycling even easier with a mobile app for Android phone owners.
Billed as "the first fully comprehensive 'all items, all zip codes' recycling app designed for the Android Phone," this free application, called My Recycle List, helps users to locate recycling locations nearby that accept items they select from a list. Frequently used locations can be organized into a personal list, filing information away for easy future reference. Like 1-800-Recycling's website and phone system, the My Recycle List app centers around convenience, offering tips and strategies for accomplishing all recycling goals in the least amount of trips.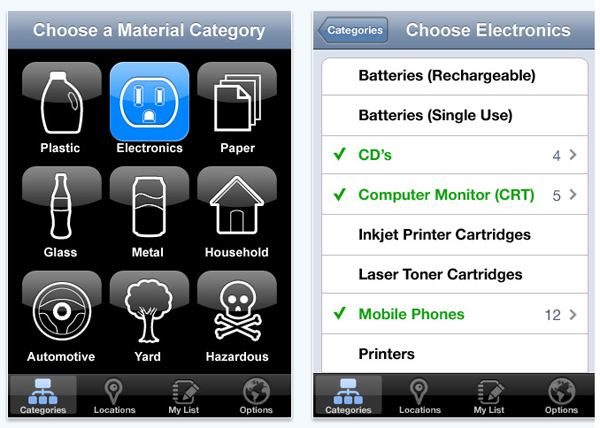 "Having our My Recycle List tool be available to Android users is yet another step forward for our mission to provide tools, through 1-800-Recycling.com, to make the recycling process easier for everyone," said John Shegerian, Chairman and CEO of Electronic Recyclers International (ERI), the nation's leading recycler of electronics and e-waste, and parent company of 1-800-Recycling.com, in a statement. "Now anyone anywhere can be a part of the recycling process – whether you are at home or at work, our site, our phone system and our app are all available, free of charge, to increase accessibility to the recycling process. It used to be a challenge to figure out how and where to recycle unwanted items – now, thanks to the variety of technologies we've developed, we are literally bringing simple recycling tools to everywhere life happens."
The application, like its parent website and phone service, includes everything in the known universe that can be recycled–electronics, tires, oil, paint, glass, plastic, wood, mattresses, carpet, junk, etc.–and all recycling services are prescreened to ensure responsible practices.
Like what you are reading? Follow us on RSS, Twitter and Facebook to get green technology news updates throughout the day and chat with other green tech lovers.