How to effectively store electricity generated by cleantech renewables like wind and solar is currently a million dollar question–and Xcel Energy believes they have the answer. According to a recent release, the company recently tested its wind-to-battery storage project in Minnesota, and the bottom line, is, their technology works.
What is this technology, exactly? In a few words: giant sodium-sulfur batteries. These batteries have been undergoing testing in Luverne, Minnesota, in connection with a nearby 11-megawatt wind farm owned by Minwind Energy, LLC.; collectively, the 20 50-kilowatt battery modules are roughly the size of two semi trailers and weigh approximately 80 tons. They are able to store about 7.2 megawatt-hours of electricity, with a charge/discharge capacity of one megawatt. Fully charged, the battery could power 500 homes for more than 7 hours.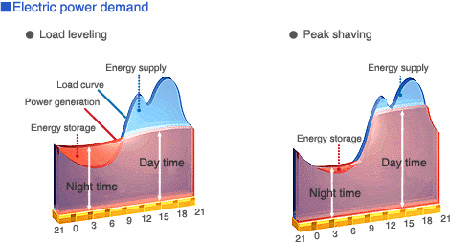 Sodium-sulfur batteries aren't new. In fact, they're commercially available (Xcel purchased theirs from  NGK Insulators Ltd.) and  versions of this technology are in use elsewhere in the U.S. and other parts of the world, but this is the first time anyone in the U.S. has tried to use this technology as a direct wind energy storage device.
According to Xcel, preliminary test results indicate that sodium-sulfur wind energy storage batteries have the potential to effectively shift wind energy from off-peak to on-peak availability; reduce the need to compensate for the variability and limited predictability of wind generation resources; support the transmission grid system by providing voltage support, which contributes to system reliability; and support regional electricity market by responding to real-time imbalances between generation and load. Results also indicate that this technology may be applicable for solar energy. The complete report is available at Battery Energy Storage (click on Milestone #5).
Like what you are reading? Follow us on RSS, Twitter and Facebook to get green technology news updates throughout the day and chat with other green tech lovers.