What is being billed as the world's largest tidal turbine was unveiled this week in Scotland. Atlantis Resources, the producers of the AK1000 turbine, said just one of these renewable energy monsters is capable of producing enough electricity for over 1,000 homes.
Atlantis said the AK1000 can produce 1 MW of predictable power at a water velocity of 2.65m/s. It has an 18 meter rotor diameter, weighs 1300 tonnes and stands at a height of 22.5 meters. The first one to come online will do so later this summer, where it will be inserted into a dedicated berth at the European Marine Energy Centre, located in Orkney, Scotland.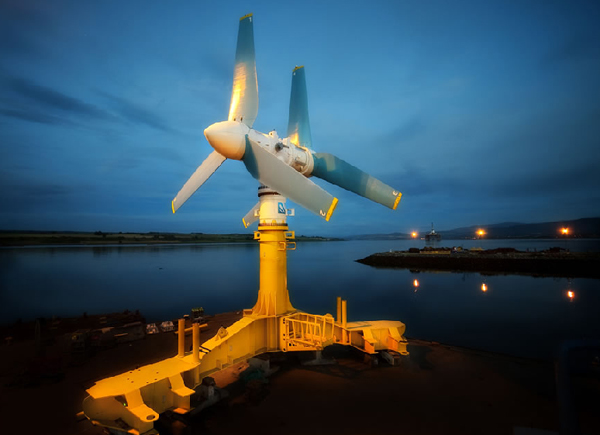 In addressing possible environmental concerns around such a large turbine installation, it is said by Atlantis that the AK1000 is expected to be "environmentally benign due to a low rotation speed whilst in operation and will deliver predictable, sustainable power to the local Orkney grid." It has been constructed to be rugged as well so that it can function harsh weather and rough, open ocean environments such as those found off the Scottish coast.
"The unveiling and installation of the AK1000 is an important milestone, not only for Atlantis, but for the marine power industry in the United Kingdom," said CEO of Atlantis, Timothy Cornelius, in a statement. "It represents the culmination of 10 years of hard work, dedication and belief from all our partners, staff, directors and shareholders. The AK1000 is capable of unlocking the economic potential of the marine energy industry in Scotland and will greatly boost Scotland's renewable generation capacity in the years to come."
Like what you are reading? Follow us on RSS, Twitter and Facebook to get green technology news updates throughout the day and chat with other green tech lovers.