Peugeot has debuted a new hybrid for its line up which is due out next spring, according to Autoblog Green. A press release accompanying the site's news story on the new 3008 Hybrid4 is calling this vehicle the world's first fully hybrid diesel vehicle.
The 3008 Hybrid4 sports a 2.0 litre 163 bhp HDi diesel engine and a 37 bhp electric motor which combine to provide a Combined Drive Cycle fuel consumption of 74.4mpg, and CO2 emissions of 99g/km. Four different driving modes will be available, including ZEV (Zero Emission Vehicle), Four-wheel drive, Auto and Sport. One one can expect from driving this vehicle a maximum combined power output of 200 bhp – 163 bhp from the 2.0 litre HDi FAP diesel engine and 37 bhp from the electric motor.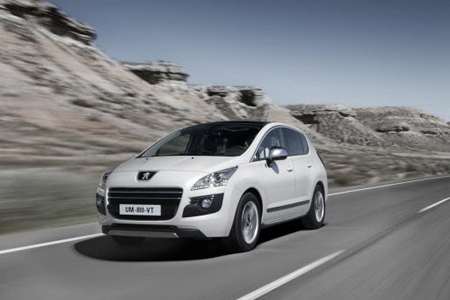 On the inside of the vehicle is what is described as an expansive fascia panel and an ergonomic center console. A seven-inch touchscreen display provides information such as the flow of energy in the hybrid system. Essential driving information is projected onto a retractable transparent panel which extends from the instrument panel. Other interesting features include a distance alert system, parallel park assist and a "3-D media" navigation system.
Like what you are reading? Follow us on RSS, Twitter and Facebook to get green technology news updates throughout the day and chat with other green tech lovers.