It's a new mobile phone with all the bells and whistles, and it's also eco! Sort of. Featuring "convenient and organized messaging with advanced contact search and a large QWERTY keyboard," Motorola would like you to know that their new GRASP mobile phone will help you to retain your social butterfly status while helping you feel good about your conversations–presumably because when you upgrade this puppy at the drop of the next latest and greatest phone, you'll be able to recycle this one.
While Motorola's list of the GRASP's "eco design elements" may be a little short–basically, it's BFR- and PCV- free, with a housing that is 100% recyclable at end of life–it certainly long on the technical specs. To wit: the GRASP features multimedia options, a 1.3MP camera with digital zoom and fixed focus; video capture and playback; a built-in MP3 player; 3.5 mm headset jack along with Bluetooth wireless capabilities; and 8 GB of storage for music and media.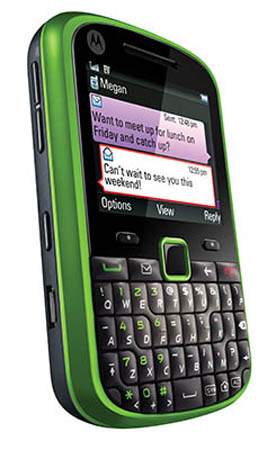 The GRASP may not be the greenest cell phone on the market, but as far as the next generation of advanced multimedia phone goes, it has more of an eco profile than most. While most of us are accustomed to recycling our cell phones at the end of their lives, most cell phones have a number of elements that can't be recycled; at least with the GRASP, users can rest assured knowing at least the entire housing of their phone will find new life in a recycling facility. And if you're the kind of "social butterfly" Motorola thinks you are, it makes sense not to have chemicals like BFR and PVC pressed up against your face all the time.
Like what you are reading? Follow us on RSS, Twitter and Facebook to get green technology news updates throughout the day and chat with other green tech lovers.