Korean auto manufacturer Kia certainly isn't new to the green car scene – we've seen in recent months hybrid designs like its 2011 Optima, a plug-in hybrid concept called the Ray and even a sporty little electric car design idea called the Venga. Kia is now back with another green car idea called Pop, which it plans to formally unveil at the Paris Auto Show at the end of September.
Details on the Pop are sketchy at this point, apart from a very short press release and accompanying concept photos. What we do know right now is that this vehicle is small – around 10 feet long – and that it will somehow squeeze three people into its very tiny body. Kia is going for all electric in the Pop, combining what it says are zero-emissions with innovative design chic.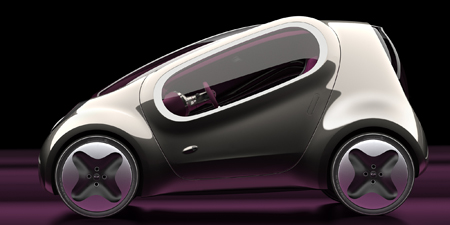 The Kia Pop concept falls squarely into what is loosely called the city, or urban, car segment. Other vehicles we've seen of late which also fall into this short distance driving collective include the T.25, Think City and C-Zero. Where the Pop will fall in terms of range and other technical features amongst this crowd remains a mystery until Kia releases more details next month.
Like what you are reading? Follow us on RSS, Twitter and Facebook to get green technology news updates throughout the day and chat with other green tech lovers.