Introduction:
One category of devices known for being energy hogs and containing non-environmentally friendly materials are external hard drives. Though they offer great options for backing up one's precious computer files, they generally fail when it comes to being a greener computer product.
Hitachi, a maker of many such external hard drives, has tried to address this issue with its lineup of SimpleTech [re]drives. These drives, which range in size from 500 GB to 2 TB, are made from eco-friendly ingredients, come in eco-friendly packaging and, most importantly, are said to be quite energy efficient.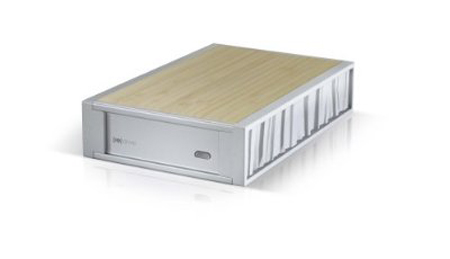 How does the [re]drive work as one's eco-friendly alternative to traditional external hard drives? Read on to find out.
The Review:
The SimpleTech [re]drive from Hitachi belongs to the category of products known as external hard drives, which are normally connected to one's PC or Mac via a USB cable for the purposes of offering extra storage beyond the computer's integrated hard drive. Common applications of external hard drives usually include overflow data storage and back up of one's more prized media file types, such as videos and images.
Hitachi provided us with a 500 GB version of the [re]drive for this review. That is, for the most part, more than enough space for most average computer users to store their media or other files on. The drive comes in a rather standard cardboard looking box which, while perhaps eco-friendly for recycling, could be smaller given what's packed inside – the [re]drive, power cable and USB cable. On the positive side, the "quick install guide" is printed on the inside of the box itself, saving at least on one enclosure commonly found with newly purchased computer products.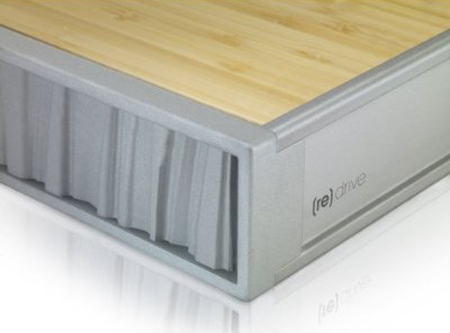 From the point of aesthetics, the [re]drive does have a nice modern and refreshing look to it, especially when you compare it to the drab gray or tan colors found on many comparable devices. The uses of sustainable bamboo and recycled aluminum on the external casing help to give the [re]drive a natural feel, especially when you touch the wood's grain.
Setting up the [re]drive is quite simple – you connect the USB cable to the drive's back and host computer, plug it in and wait a bit for your computer to recognize it. Now it should be said that with external hard drives a growing number of them can be powered by the attached computer's USB port alone. If this drive were truly to be energy efficient, it would offer this as an option instead of making use of a separate power adapter. The adapter is Energy Star rated though, which at least mitigates some of the energy hog issue (a power test shows the drive draws about 2 watts of power when not in use).
Included on the [re]drive are software options you can install which allow for local and online backups. This is always a nice to have, especially when you consider many drives don't offer this, forcing you to hunt down your own backup software options. For test purposes, we ran a full one time backup of media files, around 3.6 GB worth, to the [re]drive. It took around four minutes to complete this backup, which is certainly a respectable amount of time. Incremental backups are also available. As for the online option, which was not tested, you can assume it will take longer to backup to, depending upon your available Internet connection speeds. Also, only 2 GB is available for free backups – beyond that you have to pay.
Another nice touch as a feature of the [re]drive is auto-sensing when the connected computer is on or off. The drive matches that power state itself, helping you to save on energy when you leave your office or desk to go do something else.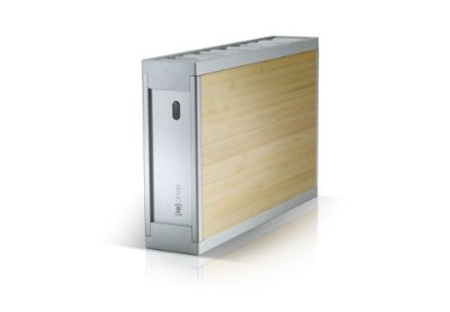 The Final Green Word:
The SimpleTech [re]drive from Hitachi is a wonderful example of an external hard drive which has been put through the green filter. The creative uses of sustainable and recycled materials in the body design, the energy efficiency of the drive itself and the ease of use of installation and data backups make it a device definitely worth considering for all of those green desk jockeys out there.
The only real two minor issues with the [re]drive are the packaging and use of an AC adapter when USB power is an available option. Attention to these two items by Hitachi in future releases of this product could truly turn the [re]drive into one of, if not the most, earth-friendly external hard drives on the market today.
Where to Purchase:
HItachi/SimpleTech has a nice array of vendors which may carry the [re]drive.