Here at EarthTechling, we're big supporters of the idea that eco doesn't have to mean un-stylish or merely utilitarian. The Eco Portable Media bag by Zaum Handmade (which comes to us via IGreenSpot) is the case in point: a laptop bag with outer fabric made from organic apple cotton canvas and a dark gray or brown wool felt.
Handmade and lovely, this bag comes with one front wool pocket and one large back pocket in canvas. The interior fabric is "organic apple green cotton canvas" (doesn't that sound yummy?), and comes with three gusseted interior pockets for all your techno-stuff: battery, cables, iPod, small hard drive, etc. There's one interior zip pocket, and a padded laptop carrier section that fits most brands' 15″ laptops, up to 10.5″x1.75″x15.25″. it comes with an adjustable shoulder strap and a magnetic snap closure.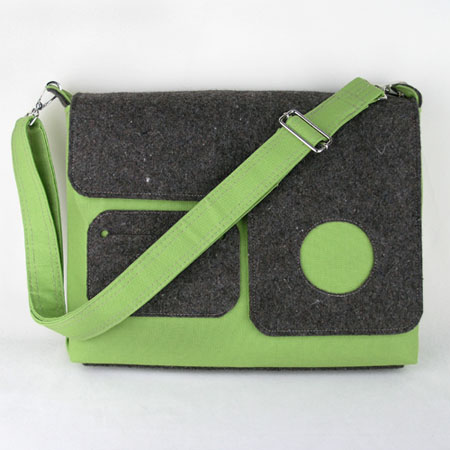 Of course, eco-fashion comes at price. $210 per bag, in this case, and be aware that "handmade" in fact means handmade–so if you want one, be sure to allow up to two weeks for production.
Like what you are reading? Follow us on RSS, Twitter and Facebook to get green technology news updates throughout the day and chat with other green tech lovers.