E-cycling is no longer a state by state issue, but rather a global one. Concerned about the "patchwork of state requirements" cobbled together over the years by different states trying to do right by the environment while minimizing our exposure to toxic chemicals used within electronics, the Government Accountability Office (GAO) recently examined (1) the Environmental Protection Agency's (EPA) efforts to facilitate environmentally sound used electronics management, (2) the views of various stakeholders on the state-by-state approach, and (3) considerations to further promote environmentally sound management.
In the course of reviewing EPA documents as well as interviewing EPA officials and stakeholders in five states with electronics recycling legislation, the GAO found that despite the EPA's commitment to e-cycling as one of its top six international priorities, the agency's efforts to facilitate responsible e-cycling consist largely of (1) enforcing its rule for the recycling and exporting of cathode-ray tubes (CRT), which contain significant quantities of lead, and (2) an array of partnership programs that encourage voluntary efforts among manufacturers and other stakeholders (such as the EPA's E-Cycling Website).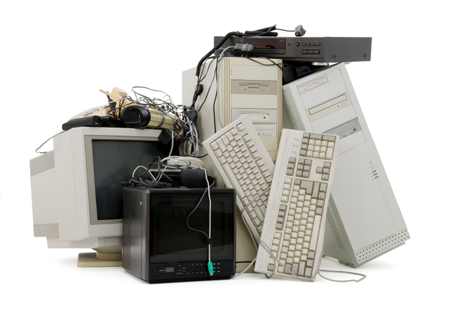 The GAO found that while the EPA has improved enforcement of export provisions of its CRT rule, various issues remain. In particular, the EPA does not specifically regulate the export of many other electronic devices, such as cell phones, which typically are not within the regulatory definition of hazardous waste (despite the fact that they contain toxic substances). Additionally,  the impact of the EPA's partnership programs is limited or uncertain, and the EPA has not systematically analyzed these programs to determine how their impact could be improved.
What do stakeholders in various states think of this approach?  Electronics manufacturers, retailers, and recyclers view the proliferation of contradictory state laws on e-cycling requirements a compliance burden, while state and local solid waste management officials in five states with their own e-cycling laws expressed overall support with the state-by-state approach. Both highlights and the full text of the GAO e-cycling report are available here.
Like what you are reading? Follow us on RSS, Twitter and Facebook to get green technology news updates throughout the day and chat with other green tech lovers.