[Editor's Note – a previous version of this story indicated the funding for this multimedia project was public in nature. It is actually privately funded by the Empire State Building Company. EarthTechling regrets the error.]
Residents of and visitors to New York City wanting to learn about a $20 million, privately funded energy retrofit the Empire State Building is undergoing can now check out for themselves what has been going on, as an interactive, multi-media sustainability exhibit at the second floor visitor's center recently opened to the public.
The retrofit itself clearly makes dollars and sense, as it's expected to reduce the Empire State Building's total energy use by more than 38%. What does that add up to? A savings of $4.4 million in energy costs on an annual basis and keeping105,000 metric tons of carbon emissions from entering the atmosphere over the next 15 years.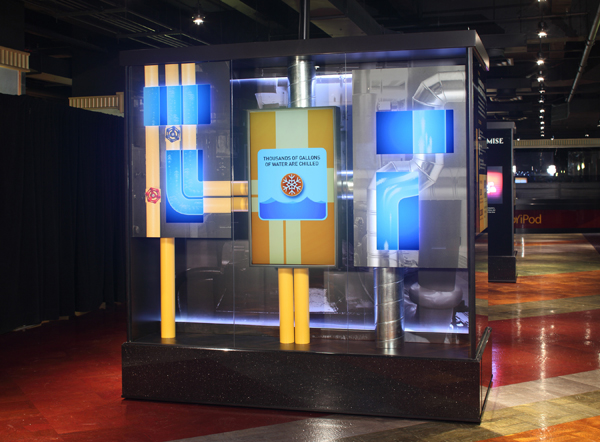 The goal of the multimedia exhibit is to communicate the story of the building's retrofit program (currently under way), educating the millions of people who visit the building every year on the positive global impact of both energy efficient building and sustainable living practices. The exhibit translates the technical retrofit story into an easy-to-understand, interactive experience that introduces the topic of energy efficiency in the context of the Empire State Building, New York City, and the planet. It combines physical artifacts with technology and integrated digital and sculptural elements.
"Last April, the Empire State Building announced our participation in a pioneering process for retrofitting existing structures for environmental sustainability. The process is aimed at reducing the Empire State Building's energy consumption and environmental impact and provides a replicable model for commercial buildings around the world," said Anthony E. Malkin, of the Empire State Building Company, in a statement. "The sustainability exhibit unveiled today at the visitor's center was created to educate and inspire our millions of visitors on the energy retrofit process and the positive impact of commercial and personal sustainable practices."
Like what you are reading? Follow us on RSS, Twitter and Facebook to get green technology news updates throughout the day and chat with other green tech lovers.