Move over, Segway, here comes the Electric Personal Transporter.  Offering "effortless, smooth 12-14 mph transport" over the pavement of your choice, this four-wheeled "vehicle" appears to offer the benefits of an electric bike (at a similar price point) for those more inclined to stand than sit.
The Personal Transporter is powered by two 500-watt electric motors housed within the hub of each 16″ drive wheel. These motors provide forward and reverse motion, while balance and steering are handled by two trailing 3 1/2″ wheels. Adjust your speed at the handlebars; a hand-brake enables "confident stops." The steel-reinforced deck of the Personal Transporter is covered by a rubber pad that ensures reliable footing, and it comes with a removable handled basket for easy toting. It includes a headlight and horn.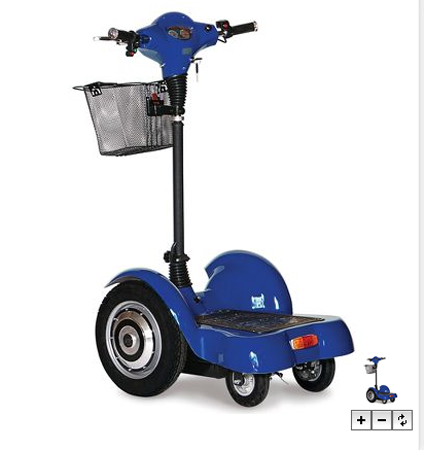 The Personal Transporter folds up to less than 18″ high for convenience in storage, and will power a rider weighing up to 350 pounds for up to 20 miles on a single, one-hour charge. Available in Red, Blue, or Silver for $1,895.00.
Like what you are reading? Follow us on RSS, Twitter and Facebook to get green technology news updates throughout the day and chat with other green tech lovers.