What is being billed as a one of a kind, zero emission electric car race kicked off today at the Square of Nations in Geneva. This race, featuring teams from Switzerland, South Korea, Australia and Germany, will have just 80 days to cover 30,000 kilometers across 16 countries in their zero-emission, electric cars.
The Zero Race, as it is being called, was initiated by Louis Palmer from Switzerland, who was the first person to go around the world in a solar-powered vehicle. One of its sponsors, Canadian Solar, noted that the organization team behind the race wants to use this unique event to "build public awareness for the potentials of renewable energies and energy efficiency, particularly in the face of the ever-increasing global traffic and the growing environmental pollution." The vehicles being driven are not those one might find in classic car races, but rather are being used not just for speed but also for "the environment, energy efficiency and reliability."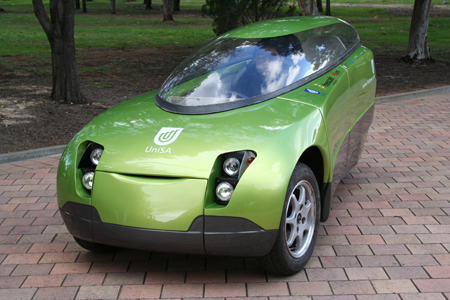 The planned route will cover Europe, Asia, and North America. Time for the race, as calculated at 80 days, includes time for maritime crossings and will feature stops in major cities such as Bruxelles, Berlin, Vienna, Kiev, Moscow, Astana, Shanghai, Vancouver, San Francisco, Austin and Madrid. It will visit the United Nations Climate Change Conference in Cancun at the end of November and will finish in Geneva at the end of January 2011.
"In 80 days around the world with renewable energies and for a green future," said Palmer in a statement. "This is the slogan of the Zero Race. We want to show that electric mobility and renewable energies provide a solution for an ecologically balanced life on this planet. And that's why we made the longest and greenest car race ever."
Like what you are reading? Follow us on RSS, Twitter and Facebook to get green technology news updates throughout the day and chat with other green tech lovers.