You want to recycle your old electronics. You know it's the right thing to do, and rumor is, some of that old junk might actually be worth some cash. But where do you go to find recycling services in your area? First there was Gazelle. Now, in a another curious case of a e-waste recycling website named after an animal, there's EcoSquid.
Featured on the EPA's eCycling website's cleverly titled "Where Can I Donate or Recycle My Old Computer and Other Electronics?" page, EcoSquid makes use of a search engine that allows users to quickly find the product that they wish to dispose of.  Does your obsolete gadget have some commercial value? If so, you can choose between cash or gift cards. If the product has no value, EcoSquid will recommend the best way to responsibly recycle or donate it in your area. EcoSquid will also let you know which services and companies are part of EPA's Plug-In To eCycling program, a partnership that helps to promotes safe and responsible reuse and recycling of e-stuff.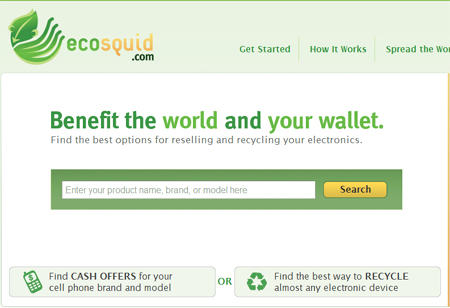 EcoSquid has some big players on board when it comes to recycling electronics (which is probably where those gift cards come in) including BestBuy, Staples, and Goodwill, as well as a number of major online resellers. It will also list information about drop-off rewards programs like ecoATM's automated e-waste recycling stations, so you can rest assured knowing that no one e-cycling program is being promoted while others are being neglected.
"We hope that by creating a single integrated destination for consumers wishing to dispose of their electronics, we can encourage them to take advantage of some of the great services that are out there," says Nik Raman, President and co-founder of EcoSquid, in a statement.
Like what you are reading? Follow us on RSS, Twitter and Facebook to get green technology news updates throughout the day and chat with other green tech lovers.