Wind energy development outside of the United States continues to grow at a fast pace while we wrestle with clean power versus fossil fuels. One of the latest, and largest, examples of this can be seen in Australia where, by 2013, a 420 MW wind farm costing nearly $1 billion Australian dollars will rise up to power more than 220,000 homes on average, while removing more than 1.7 million tons of greenhouse gases every year, which is the equivalent of taking more than 420,000 cars off the road.
The massive Macarthur Wind Farm, being developed in southwest Victoria, is being jointly funded by New Zealand's largest renewable electricity generator, Meridian, and Australia's largest renewable electricity generator AGL. It will make use of 140 Vestas V112-3.0 MW wind turbine generators, creating approximately 400 direct jobs that will be generated at the peak of construction, as well as another 800 indirect jobs at the peak. When completed, it will be the biggest wind farm in the Southern Hemisphere.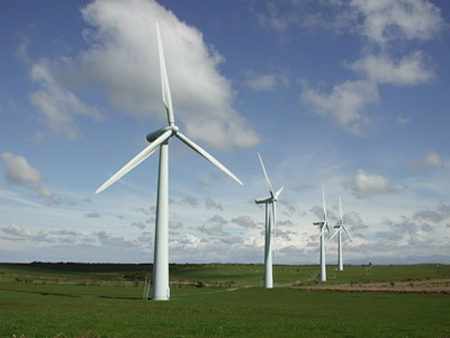 "This $1 billion project will help cut emissions, create new jobs and provide clean energy for Victorians," said he Premier of Victoria, the Hon. John Brumby MP, in a statement. "Attracting a renewable project of this scale to Victoria is yet another example of how Victoria is leading the way towards a clean energy future."
Like what you are reading? Follow us on RSS, Twitter and Facebook to get green technology news updates throughout the day and chat with other green tech lovers.