The exotic Mercedes SLS AMG sportscar is certainly a beauty, even though it is also a bit of gas hog. That being said, Daimler is addressing this issue head on by recently releasing lots of details on a concept design for an electric version of this zippy car that is just as equally sexy and impressive.
The Mercedes SLS AMG E-CELL replaces the regular vehicle's 6.3-litre V8 engine with four synchronous electric motors that have a combined peak output of 392 kW and a maximum torque of 880 Nm. Each motor is positioned near a wheel, achieving a maximum rpm of 12,000/rpm. What does this all mean for you the drooling, wannabe driver? 0 to 60 MPH in four seconds, which is a hair less than the same acceleration rate as the gas version of this car.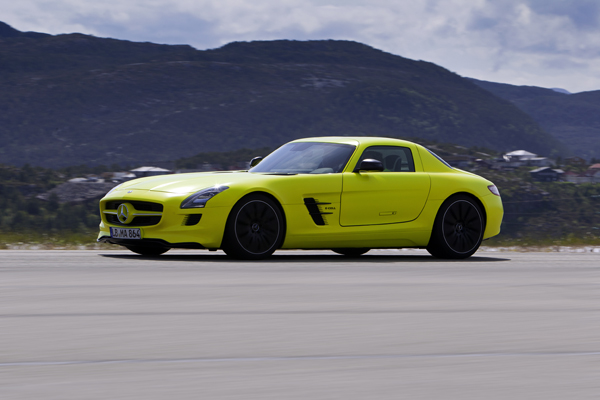 In terms of battery output, the SLS AMG E-CELL incorporates a liquid-cooled high-voltage lithium-ion battery featuring a modular design that is 400 volts, has an energy content of 48 kWh and a capacity of 40 Ah. It consists of 324 lithium-ion polymer cells and, in addition to being charged through a charging station, can also draw energy during braking whilst the car is being driven. A maximum range for this vehicle, as well as top speed, were not provided by Daimler.
In terms of other features, some of which you can see via the promotion video below, include a gullwing design, a high performance electronic control system, a new front axle design with pushrod damper struts, ceramic composite brakes, full LED headlamps, an automatically extending front splitter and a lush interior that is highlighted by a highly functional touchscreen interactive display. Now please wipe the drool off your computer's keyboard.

Like what you are reading? Follow us on RSS, Twitter and Facebook to get green technology news updates throughout the day and chat with other green tech lovers.