Around the same time rival electric motorcycle manufacturer Brammo was announcing its new Empulse model, Roehr Motorcycles was announcing the availability of models first unveiled back in January. Pricing on the new eSuperBike is around $27,600, while the souped up eSuperbike RR goes for around $34,500 and the smaller eSuperSport comes off the cheapest of the three at around $17,000.
Roehr's three new electric motorcycles, according to the company, are all said to sport the latest in production electric drive technology, including high-efficiency AC induction motor technology with advanced motor control, regenerative braking, self diagnostics and safety capabilities. All are powered by a Lithium Iron Phosphate (LiFePO4) battery that is tied into a battery management system that communicates battery cell voltage, as well as control of battery charging and balancing operations.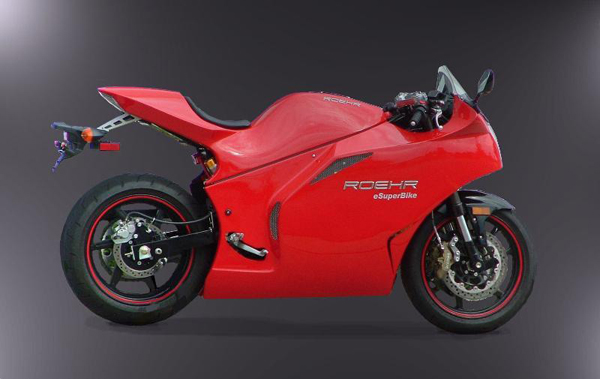 In terms of street statistics, the eSuperBike sports 96hp, twin AC Induction motors with LiFePO4 battery technology that lets the vehicle achieve a top speed of 135 MPH. The eSuperSport, meanwhile, gets 100 MPH top speed and hosts a 48hp AC induction motor. The RR version of the eSuperBike is more geared for racing, through Roehr says it is, in fact, street legal. It features premium Ohlins suspension front and rear, Brembo radial brakes and light weight performance wheels and tires.
Like what you are reading? Follow us on RSS, Twitter and Facebook to get green technology news updates throughout the day and chat with other green tech lovers.