Motel 6, most widely known for cut-rate accommodations on long-haul road trips, now has another claim to fame: LEED certification from the United States Green Building Council (USGBS).
The Motel 6 building which recently received this certification–a first for the chain's parent company, Accor–is located in Northlake, Texas. It adheres to Accor North America's ongoing sustainable initiatives in its use of efficient and smart heating and cooling systems, CFLs and LEDs, battery recycling and water conservation measures, as well as thermal solar water heating, a reflective roof,  low e-glass tinted windows, high-efficiency laundry equipment with computer-controlled dryers, green cleaning products, low flow toilets and showerheads, and passive solar building orientation.  The building was constructed using recycled flooring (preconsumer), sustainable lumber, and low VOC materials; outside, native landscape and high-tech irrigation controls were used to cut down on wasted water.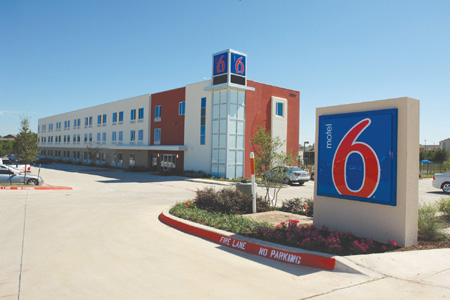 The Northlake-Speedway Motel 6, located at 13601 Raceway Drive in Northlake, Texas, was designed by BOKA Powell of Dallas and features a 24-hour food and beverage marketplace. It was designed in accordance with Motel 6's "Phoenix room" prototype, a "green room" integrated into more than 70 of Motel 6's existing corporate-owned and franchised locations in more than 20 U.S. markets.
"With the brand's 'Phoenix' prototype, we are setting the pace for the future of Motel 6, which, in line with our values, must be as energy-efficient as possible," said Olivier Poirot, CEO of Accor North America, Motel 6 and Studio 6, in a statement. "LEED's high environmental standards lend a great deal of credence to our efforts, and we look forward to continuing on the path to greater sustainable practices in the future." Hopefully, Motel 6's green future will include the same low rates for which they're known.
Like what you are reading? Follow us on RSS, Twitter and Facebook to get green technology news updates throughout the day and chat with other green tech lovers.