The Microsoft Hohm online energy management service, which provides you personalized energy recommendations based upon your energy usage history, just got more personal today. Microsoft announced it has partnered with Blue Line Innovations, a developer of real-time energy monitoring products, to bring use Blue Line devces to report energy usage data to Hohm.
This partnership, which is the first of its kind for the Hohm service in what could be the start of other eventual connected devices like smart thermostats and electric vehicles, is similar to one announced in May between Google and home energy monitor company Current Cost. The Microsoft/Blue Line relationship centers around the Blue Line Power Cost Monitor  and WiFi Gateway, a $249 package deal that has the monitor attaching to a household power utility meter and the gateway device going through your home broadband connection to wirelessly transmit energy usage data from the monitor to your Hohm account online.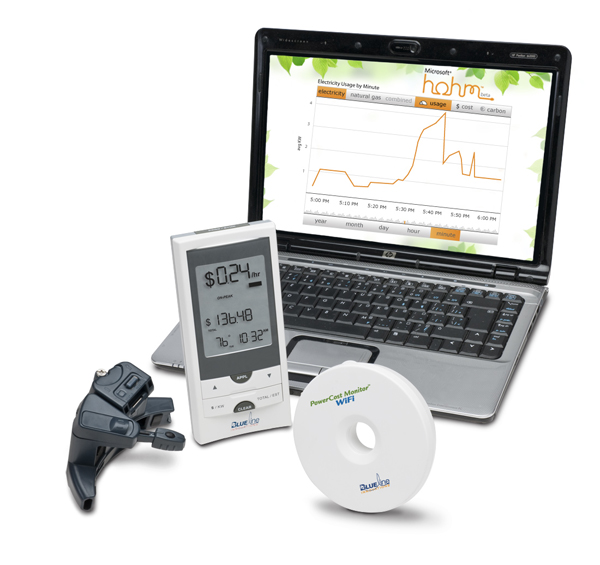 The Microsoft Hohm team, in a blog post about this new product, said that with devices like the Blue Line Monitor connecting to Hohm "you will receive more detailed energy use information than what you are currently getting on your monthly bill." This near real time energy usage information, updated to your Hohm account around every 30 seconds, can be viewed in easy-to-use graphs and charts that show where one can save the most energy and money by identifying usage patterns and potential problems.
"With a utility bill you may only see your energy usage once every month or even every two months," said Troy Batterberry, product unit manager for Microsoft Hohm, in a statement. "The Blue Line PowerCost Monitor and WiFi Gateway provide updates every 30 seconds, so you're getting real-time data so you can take real-time action. It's kind of like online banking for your energy bill, offering 24×7 access to your usage."
Like what you are reading? Follow us on RSS, Twitter and Facebook to get green technology news updates throughout the day and chat with other green tech lovers.