If your time is limited in the Great Smoky Mountains National Park, Rocky Mountain National Park or Yellowstone National Park and you want to take great pictures, there's an iPhone app that will lead you directly to the most famous vistas of these great national parks and help you set up professional-looking photos.
The Travel Photo Guides of U.S. National Parks app for iPhone by Mobile42 makes use of the iPhone's built-in GPS to guide you to locations on zoomable park and topographical maps. These locations have been pre-selected for their popularity with visitors and professional photographers, including Tom Murphy, renowned for his photography in Yellowstone National Park as well as wildlife in the West; Erik Stensland who is a fine-art landscape photographer focused on the Rocky Mountains, England and Utah; and Nye Simmons who is an author and expert on Smoky Mountains National Park and Blue Ridge Parkway. The app includes images taken by each of these photographers and gives detailed tips for how to take similar pictures of particular views.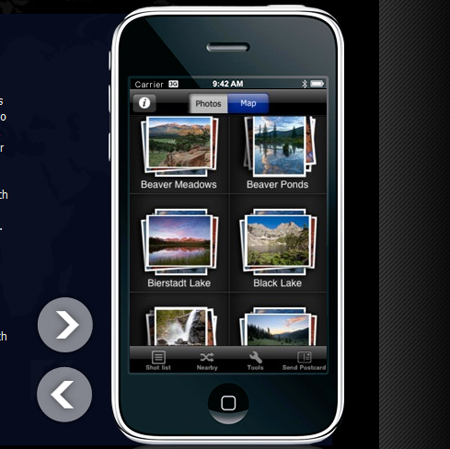 "We are very excited to offer travelers an interactive guide to the park that not only provides extensive maps but also the secret to taking spectacular pictures," said Neal Goldstein, co-founder and bestselling author of the For Dummies series of iPhone and iPad application development books, in a statement. "Our apps help visitors maximize their time in the park. We make it easy to plan exactly where to go for the best vistas and shots." While these apps won't get you off the beaten trail, or away from crowds, they will help you benefit the park you're visiting, as a portion of the proceeds of the sales of the apps is donated to its respective Park Association.
Like what you are reading? Follow us on RSS, Twitter and Facebook to get green technology news updates throughout the day and chat with other green tech lovers.