If you stay up on updates from your municipal recycling service, you're probably aware of what types of items you can recycle curbside. Possibly, you've also got a vague idea of where you might be able to recycle some other items, such as electronics or phone books. But what about everything else?
A service known as 1-800-Recycling offers a fully comprehensive "all items, all zip codes" recycling directory–and now, that service is available to users on the go, thanks to a free App designed for the iPhone. 1-800-Recycling's mobile app enables the user to quickly find recycling locations nearby that accept items selected from a list. There's even an option whereby you can organize your locations by adding them to a personalized list.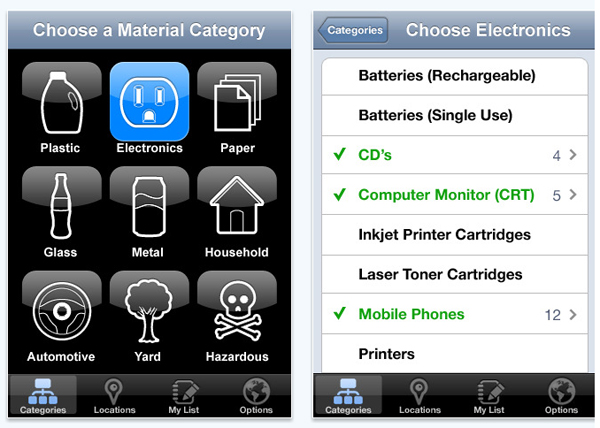 The app is called MyRecycle, and like 1-800-Recycling's website and phone system, it's designed to take the burden out of recycling by making it easy to ethically dispose of everything, using the least amount of trips–a boon not only to the local landfill, but your carbon footprint as well. (After all, it can't be that great for the environment if you're constantly running around trying to find places that recycle different items, right?)
"Our new App is a perfect addition to the selection of tools we are providing through 1-800-Recycling.com to make the recycling process easier," said John Shegerian, Chairman and CEO of Electronic Recyclers International (ERI), the parent company of 1-800-Recycling, in a statement. "Now anyone anywhere can be a part of the recycling process – whether you are at home or at work, our site, our phone system and our App are all available, free of charge, to increase accessibility to the recycling process." If you're iPhone-less, don't worry: the same information is available online at www.1800Recycling.com or by calling 1-800-Recycling.
Like what you are reading? Follow us on RSS, Twitter and Facebook to get green technology news updates throughout the day and chat with other green tech lovers.