The Home Star bill, which would offer rebate incentives for greening your home projects such as energy efficiency upgrades, is slowly sloshing its way through Congress. After an early March unveiling by the White House, the bill passed the House of Representatives on May 6 via a 246-161 vote. It is now languishing in Senate committees, which is why a diverse group of nationally recognized companies, labor and environmental organizations and associations called the Home Star Coalition is now urging the Senate to get off its butt and get the legislation moving.
The Home Star Coalition, in an open letter [PDF] to President Obama and the Senate, is asking for the Home Star legislation to be included in the pending Small Business Jobs legislation being considered. This bill may end up moving faster through the Senate if everyone can be made happy enough, as indicated by a recent New York Times article about its hasty introduction after passing the House. It is believed by the Coalition that Home Star will have huge benefits for everyone, including job creation for small businesses, savings for homeowners and, of course, better energy efficiency for homes.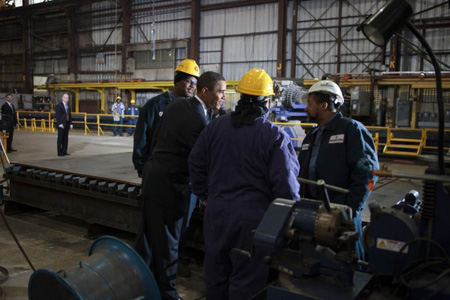 Home Star is described by the Coalition representing 2,000 members, for those unfamiliar with it, as "a market-driven, low-bureaucracy program that would create jobs fast by scaling the existing home energy efficiency improvement industry. Home Star would use rebates and tax incentives to spur more Americans to start making their homes more energy efficient. It would establish a streamlined rebate program to encourage immediate investment in energy-efficient appliances, building mechanical systems and insulation, and whole-home energy efficiency retrofits." It is believed that if it passes and is signed into law, Home Star could create 168,000 new jobs in construction and related industries over the next two years.
"Home Star is the right investment for the country at the right time. That time is now," said Tracy Price, CEO of The Linc Group, in a statement. "Energy efficiency is not a partisan issue, as it helps move us toward greater energy independence and enhances our national security. This program is targeted at the largest marketplace in the country, existing homes, and will create jobs in a new industry that will thrive for decades."
Like what you are reading? Follow us on RSS, Twitter and Facebook to get green technology news updates throughout the day and chat with other green tech lovers.