Petroleum giant ExxonMobil appears to see the writing on the wall, so to speak, about Peak Oil–hence their new collaboration with Synthetic Genomics Inc (SGI) on a new greenhouse facility that will enable the next level of research and testing in their algae-derived biofuels program.
The new facility is located at SGI's headquarters in La Jolla, California, where it will provide an environment that more closely approximates real-world conditions for algae production than the lab where this collaborative biofuels project had previously been working.  In the greenhouse, SGI and ExxonMobil researchers will conduct research designed to answer the million dollar question: can large-scale quantities of affordable fuel be produced from algae?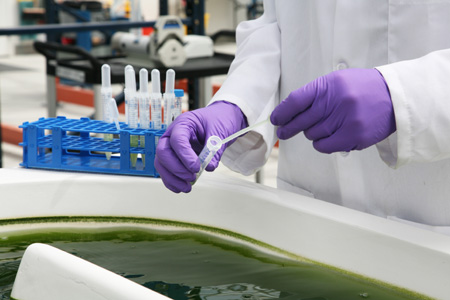 Since the program's inception in July of 2009, it has already passed some major hurdles, including isolating/engineering candidate algal strains and developing growth conditions for optimal production, identifying and testing preferred design characteristics of different production systems, and initiating life-cycle and sustainability studies to assess the impact of each step in the process on greenhouse gas emissions, land use and water use. If the greenhouse trials prove successful, the next step will be to move testing to an outdoor facility (expected for mid-2011).
"This is an important day in the early stages of our development program as we test the hypothesis that algae biofuels could become commercially viable and make a meaningful contribution to meeting future energy demand," said Dr. Emil Jacobs, vice president of research and development for ExxonMobil, in a statement. If all steps of the program go as planned, ExxonMobil expects to spend more than $600 million on its algae biofuels program over the next decade, $300 million of which will be allocated to SGI.
Like what you are reading? Follow us on RSS, Twitter and Facebook to get green technology news updates throughout the day and chat with other green tech lovers.