In what is either a very bold move or a classic blunder, depending upon your perspective, General Motors (GM) finally came out today with word of pricing on its highly awaited Volt electric car – $41,000 starting. This cuts down somewhat – to perhaps as low as $33,500 – because of an up to $7,500 federal tax credit.
We say it could be a good or bad move depending upon public perception of this pricing scheme, especially compared to the Nissan Leaf's $32,780 MSRP before tax credits. GM believes the Chevy Volt to be the best vehicle in its class, which it describes as "a class by itself," thus perhaps rationalizing the price. The U.S. auto manufacturer is offering an interesting lease program to go along with the Volt – as low as $350 for 36 months at MSRP with $2,500 due at lease signing. The company will be offering with the electric car an eight year/100,000 mile battery pack warranty as well, along with a variety of more standard bumper to bumper coverages.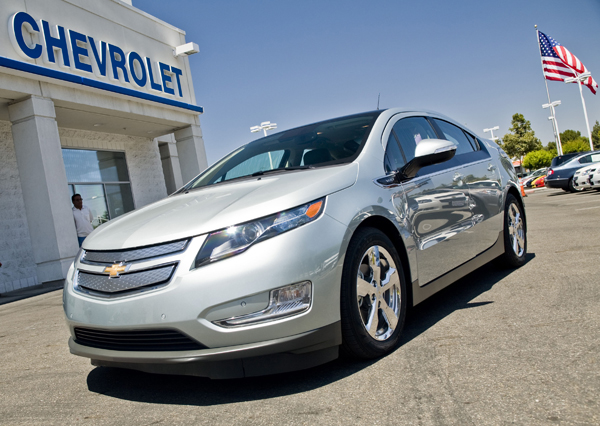 GM said that starting today it is taking orders for the Volt at a participating Chevrolet dealer [PDF] in Volt launch markets at GetMyVolt.com. It will be initially available to Chevrolet customers in California, New York, Michigan, Connecticut, Texas, New Jersey and the Washington D.C. area. The Volt, as far as electric vehicles go, is said to get a range of "about 340 miles and is powered by electricity at all times. For up to the first 40 miles, the Volt drives gas- and tailpipe-emissions-free using electricity stored in its 16-kWh lithium-ion battery. When the Volt's battery runs low, a gas powered range-extending engine/generator seamlessly operates to extend the driving range another 300 miles on a full tank." Also being thrown into the mix for Volt owners will be five years of OnStar service, including Automatic Crash Response, stolen vehicle assistance and connected navigation; and, for 4,400 Volt buyers, eligibility for a free 240-volt charging station, including home installation.
"The Chevrolet Volt will be the best vehicle in its class…because it's in a class by itself," said Joel Ewanick, vice president of U.S. marketing for General Motors, who made the announcement at the Plug-In 2010 conference. "No other automaker offers an electrically driven vehicle that can be your everyday driver, to take you wherever, whenever. The Volt will be packed with premium content and innovation, standard."
Like what you are reading? Follow us on RSS, Twitter and Facebook to get green technology news updates throughout the day and chat with other green tech lovers.