What would it take for you come up with ideas that create a smarter, cleaner, more efficient electric grid, and accelerate the adoption of more efficient grid technologies? $200 million perhaps? That is the challenge GE and a group of venture capital firms are putting forth as they pony up a huge cash commitment to promising ideas in the clean energy arena.
The GE ecomagination Challenge: Powering the Grid, as it is being called, is a 10 week contest that is taking ideas from around the world from businesses and individuals who believe they have promising solutions to offer. Three categories of ideas are being solicited, including renewable energy, grid efficiency and ecohomes/ecobuildings. Interested parties must register at the challenge's website to submit their ideas. Entries will be evaluated as candidates for both a potential future commercial relationship with GE, which includes capital investment, distribution and development, as well as "a $100,000 innovation challenge award acknowledging their entry as an example of outstanding entrepreneurship and innovation."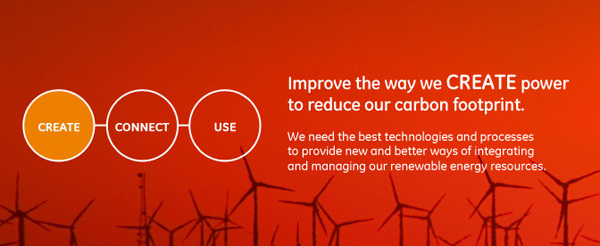 Judging these entries will be, in regards to the future commercial relationship with GE, a committee of representatives of GE businesses and the challenge partner firms. A separate panel, including challenge advisor Chris Anderson (of Wired magazine), GE executives and leading academics and technologists will also provide input on the commercial relationship candidates, as well as select the five recipients of the innovation awards. Members of the public will also be able to view the submitted ideas and provide their thoughts on them.
"Innovation is the engine of the global effort to transform the way we create, connect and use power," said GE Chairman and CEO Jeff Immelt in a statement. "At GE we have invested broadly and deeply in digital energy solutions and see this as a substantial market for us, but we can't do it alone. We want to work with our partners to make sure we have a comprehensive digital energy offering. This challenge is about collaboration and we are inviting others to help accelerate progress in creating a cleaner, more efficient and economically viable grid. We want to jump-start new ideas and deploy them on a scale that will modernize the electrical grid around the world."
Like what you are reading? Follow us on RSS, Twitter and Facebook to get green technology news updates throughout the day and chat with other green tech lovers.