Here's one for all you urban farmers and weekend gardeners tired of turning over compost: the KinetiCompost concept from designer Ben Bangser.
The gizmo itself doesn't look all that different from your average rotating composter, except for the fact that it happens to be rotated (and aerated) by the wind. That's right: the KinetiCompost comes with its own wind turbine, which harvests energy from the weather outside to do the dirty work. It features a 200:1 gear ratio, so even a light breeze can get your kitchen scraps moving and decomposing, as well as internal ribbing to help keep the organic matter from clumping up. Snap-on lids provide holes for aeration, so it appears that all you have to do is load in your vegetable scraps and load out the good stuff that helps your garden grow.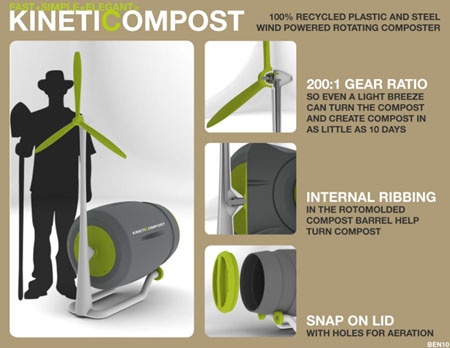 The designer claims that the KinetiCompost can actually create fertilizer out of your leftovers in as little as ten days–which seems like a bit of a stretch, but who knows? If this concept design composter–made entirely of recycled steel and plastic–really does create high-quality fertilizer ten times faster, as claimed, you can bet this design won't remain a concept for long.
Like what you are reading? Follow us on Twitter to get green technology news updates throughout the day!