Most concept designs are great because of the concepts behind them–this one may in fact be great because of its design. Can you tell we like the Sunflower solar power station and music system?
Designer Richard Baiao of Portugal designed the Sunflower (which comes to us via Solar Lighting Guide) to sit on your desk, ready and waiting (on a sunny day) to power up your portables and other electronics with its solar panel, via the sockets contained in its base. When your gadgets are all juiced up and ready to go, you can pop open that round solar panel and insert a CD. The Sunflower will then use its power to provide your tunes for the day, via the speakers contained in its "stem."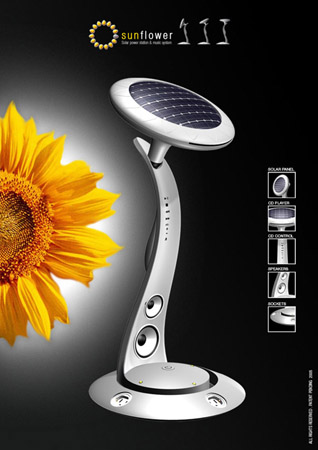 The designer claims that the Sunflower "interacts [with] and transforms common living spaces into enjoyable and sustainable living environments." We'd like to test his hypothesis–here's hoping that a prototype is currently under development.
Like what you are reading? Did you know EarthTechling also does lengthy and original features on green technology? Check it out!