Heading to the 2010 Shanghai World Expo? if you are, and plan to check out the Huangpu River, make sure to see if you can get a cruise on the new Suntech Guosheng Solar Sailor solar and wind powered eco-ship cruising around. This innovative hybrid solar boat, with its zero emissions capability, hit the waters in the last week.
The Suntech-Guosheng Solar Sailor was developed for Suntech, a producer of solar products for residential, commercial, industrial, and utility applications, by Australia-based Solar Sailor, a developer of maritime solar technology. The 31.5 m boat makes use of what Solar Sailor says is Hybrid Marine Power (HMP) and a solarsail – a single device "that harvests both sun and wind energy in a seaworthy manner." The ship can also make use of  "alternative fuels such as bio fuels or gaseous fuels" and is seen as a "platform for hydrogen fuel cell technology in the future." It combines all of this with electric drives for its propulsion.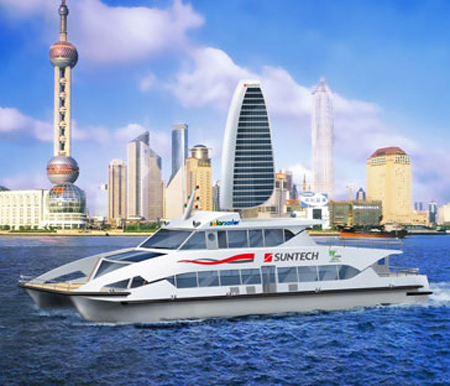 Also on board the Suntech Guosheng is special "National Semiconductor analog-based SolarMagic technology to maximize the power output of the HMP system." The design of this ship was inspired by nature, according to Solar Sailor, and it looks not to be the only ship of its type that will eventually be on the waters of China – the Hong Kong Jockey Club recently purchased four solarsailor boats in what will reportedly be "the first commercial hybrid solar passenger ferry service in the world."
Like what you are reading? Did you know EarthTechling writes up in-depth reviews of green technology products? Check it out!