In yet another rash of recalls for Toyota, the automaker recently announced that they'll be conducting a voluntary recall on certain 2010 HS 250h hybrid models from their luxury line, Lexus. This is the second recall for this vehicle this year.
The recall is apparently in response to recent National Highway Traffic Safety Administration (NHTSA) test results involving the Lexus HS 250h indicating safety issues around fuel system integrity. The results, according to the NHTSA, indicated that when the vehicle rotates a certain way after an impact, the amount of fuel which spilled forth exceeded safety limits for a potential fire. Toyota said around 17,000 of its vehicles will be in this recall. This vehicle ironically earlier this year was awarded five stars for safety by the NHTSA.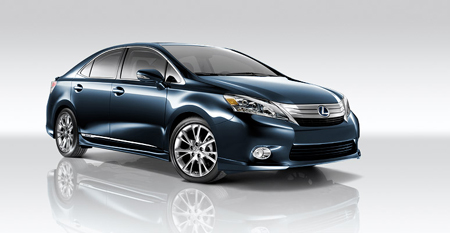 "We want to assure our customers that their safety and satisfaction are our top priorities. We take the National Highway Traffic Safety Administration (NHTSA) test results very seriously and appreciate the NHTSA bringing its concerns to our attention," said Mark Templin,  Lexus Group Vice President and General Manager, in a statement. "Our engineers conducted similar testing during the development of the new HS 250h and the vehicle performed safely.  While we are investigating and vigorously working to understand the different test results, we have stopped delivery of the involved vehicles.  As soon as the issue is better understood and/or a remedy is developed, we will contact every owner."
Customers concerned about the safety of the HS 250h are advised to contact their local Lexus dealer or Lexus Customer Satisfaction at 1-800-25LEXUS or 1-800-255-3987.
Like what you are reading? Follow us on RSS, Twitter and Facebook to get green technology news updates throughout the day and chat with other green tech lovers.