There's something to be said for a product which is handcrafted by artisan crafters. We aren't exactly talking green gadgets in this particular case, but rather the accessories that go with them. iPhone cases are a big business as an accessory for this popular smartphone, but unfortunately most of the cases are mass built in cheap labor factories overseas to meet demand. A handful of enterprises, however, carefully labor to build quality cases which have the potential to be longer lasting, more earth friendly and also nicer looking.
One such outfit doing this is Grove, a small collective of designers, programmers and makers based in Portland, Oregon that we first highlighted back in April. This small team, lead by Joe Mansfield and Ken Tomita, do everything in the production process, including product and package design; logo and graphic design; web design and development; photography; CNC/laser programming and operation; all handwork and finishing; and marketing. Tomita, who we interviewed for this story, is a custom furniture builder who makes use of bamboo, often sustainable, as the building material for these beautiful cases.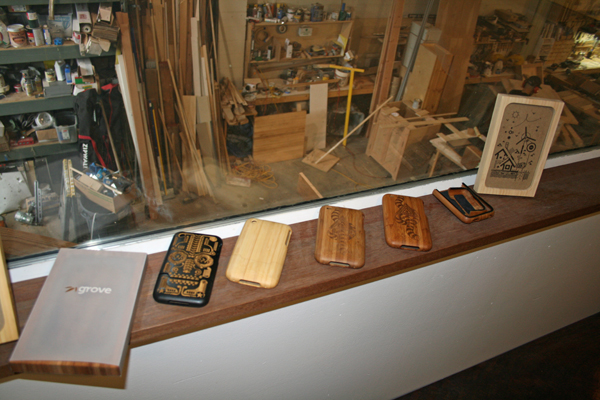 What follows over the next several pages of this article is the interview of Tomita as well as some photos from live production of new iPhone cases at his workshop. These cases are actually hand built in two locations, with the second stop after the wood workshop being the laser engraving handled by Mansfield. It should be noted that these cases are made to be as green as possible through practices like using sustainable materials, natural finishes, and responsible packaging. You'll find Tomita and company not doing it this way to build hype,but more so because their standard is "to feel good about what we do, both in terms of the quality of our product and its impact on the environment."
EarthTechling (ET): Tell us about the iPhone cases you make. What makes them unique?
Ken Tomita: Our cases are unique because they are made of natural material and made locally to the highest quality standards.  Our design is the thinnest of the competition and feels good in your hand due to the hand rubbed natural oil/wax finish.  Laser engraving is available from the artist series we curate and also you can upload your own art.  We approach product design as art, not manufacturing.
By being sensitive and thoughtful about what we do, we reduce the impact on the world and also provide a superior product.  The packaging is made from production waste and turns into a picture frame for the artist series card.  Basically, we strive to be the best in every way.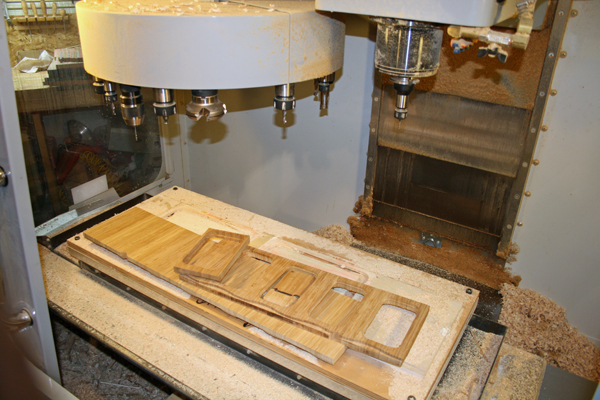 ET: Describe the process in brief that goes into making one case.
Tomita: The cases start out as 4ft x 8ft sheets of bamboo ply.  I cut them down to size and run them in my CNC mill.  The rough cut cases are removed and then shaped via orbital sander and then sanded by hand.  The anodized aluminum bezels are carefully hand glued making sure there is no excess glue.
From there the cases travel to my mom's house in SW Portland where she applies 4 coats of natural oil/wax, waiting a day between coats.  The finished cases go back to our laser facility where the orders are processed and lasering done.  The packaging components are also made at the laser shop.
ET: What makes your cases "green"?
Tomita: We try not to use big and vague words such as "green" and "sustainable" to promote our company.  We tell people exactly what we do and leave it to them to come up with their own conclusions on what that means to them.  We use a rapidly renewable material (bamboo), use waste for our packaging, use no plastic, and take pride in making everything ourselves locally.
Our standard is to feel good about what we do, both in terms of the quality of our product and its impact on the environment.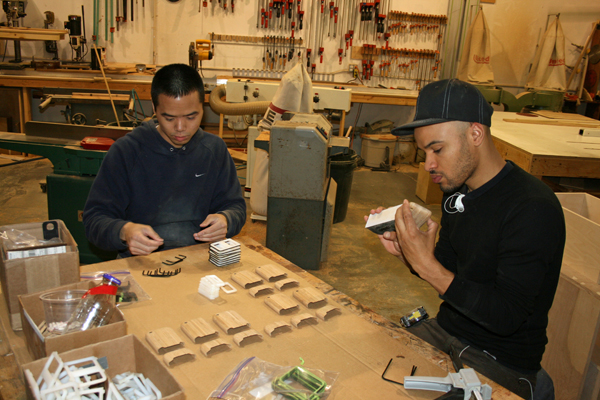 ET: What future product development plans can you share with us?
Tomita: We have pre-launched an iPhone 4 case with a similar design to the 3g version.  We are excited about how thin our case will be and it will be available with customization and artist series as well.  An iPad case is in the works as well, most likely launching in about a month.  This will also be very thin and well designed.
After that we are looking to release products that anyone can buy.  Perhaps a vase or other home accessory for our fans without iPhones.