It is no secret that GE, a company we frequently cover here, is a big investor in clean energy and smart grid projects. It also implements a lot of green-focused projects across its businesses. All of this culminates under its Ecomagination label, which the company apparently has now put over $5 billion into in terms of research and development investment over the last five years.
The Ecomagination program, according to GE, launched in May 2005. The company says that revenues from its portfolio of energy efficient and environmentally advantageous products and services crossed $18 billion in 2009, showcasing the fact that money can be made from an eco-friendly focus when capital investment is put into it. GE said as well that greenhouse gas intensity was reduced 39 percent compared to 2004, with greenhouse gas emissions from GE operations being 22 percent lower than a 2004 baseline.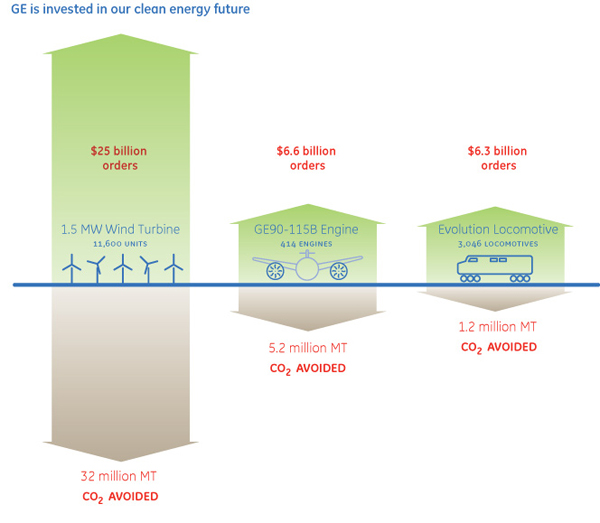 GE has no plans to slowdown its investment in research and development in these areas, committing itself to an additional $10 billion in its Ecomagination program in the next five years. Key highlights from its annual report on its green initiatives include having invested $1.5 billion on R&D in 2009 alone, growing revenues in this area in 2009 by six percent and reducing water consumption 30% compared to a 2006 baseline, surpassing the original goal of 20% by 2012. You can learn more details on the fluffy side of the GE Ecomagination program at five years via a company blog post or by watching the video below.
"Ecomagination is one of our most successful cross-company business initiatives. If counted separately, 2009 ecomagination revenues would equal that of a Fortune 130 company and ecomagination revenue growth equals almost two times the company average," said Jeff Immelt, chairman and CEO, GE, in a statement. "We have made bold investments in ecomagination research and development and it has resulted in strong returns for shareholders."
Like what you are reading? Follow us on RSS, Twitter and Facebook to get green technology news updates throughout the day and chat with other green tech lovers.