No one wants to think about being involved in a car crash. But if the unthinkable happens while you're behind the wheel of an electric vehicle, will first-responders know what they should not do in the midst of all that unfamiliar equipment? Chevrolet–maker of the the new Volt–and its partners at OnStar apparently want to made sure they do, as Chevy recently announced it will be offering the first automotive manufacturer-sponsored training program for first-responders nationwide focused on electric vehicle technology.
The announcement was made recently from leaders of Chevrolet, OnStar, the International Association of Fire Fighters (IAFF), International Association of Fire Chiefs (IAFC) and the National Emergency Number Association (NENA).Training sessions will feature the Chevrolet Volt and will begin at the IAFC's Fire-Rescue International Conference, Aug. 23-27 in Chicago, continue at the Association of Public-Safety Communications Officials conference Aug. 1-4 in Houston, and conclude at the NENA conference, June 5-10, 2011 in Indianapolis. Chevrolet and OnStar will also host first-responder sessions in Volt retail markets later this year including San Francisco, Los Angeles, Detroit and Washington, D.C.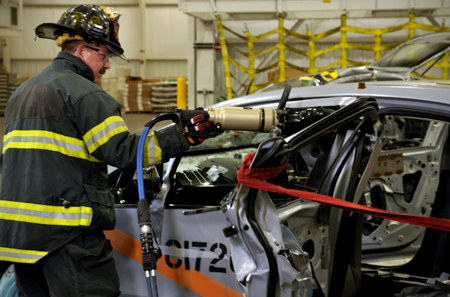 The training will include animation and illustrations of the Chevrolet Volt, highlighting locations of high-strength steel, cut points for extrication, first-responder labeling, automatic and manual electrical shut-off and more. We assume that this training series will be applicable to other electric vehicles besides the Volt, but whether it gives first-responders a handle on how to rescue those trapped in a Leaf or a Roadster remains to be seen.
Like what you are reading? Follow us on Twitter to get green technology news updates throughout the day!