In what amounts to one of the largest developments yet in the American build out of a national vehicle charging infrastructure for supporting electric car owners, Coulomb Technologies announced today it will offer in nine regions around the country no cost home and public charging stations (you'll still have to pay for the actual electricity). This comes on the heels of a related announcement by Ford, which is partnering with Coulomb to offer free charging stations to some of its first electric vehicle owners (Chevrolet and smart USA also will have similar arraignments).
Coulomb said specifically that, as part of its ChargePoint America program, it "will provide nearly 5000 charging stations to program participants in nine regions in the United States: Austin, Texas, Detroit, Los Angeles, New York, Orlando, Fla., Sacramento, Calif., the San Jose/San Francisco Bay Area, Redmond, Wash., and Washington DC." This is on top of partnerships with Ford, Chevrolet and smart USA to support their early electric car owners. This program, set to the money tune of $37 million, is being underwritten in part by a $15 million grant from the American Recovery and Reinvestment Act through the Transportation Electrification Initiative administered by the Department of Energy.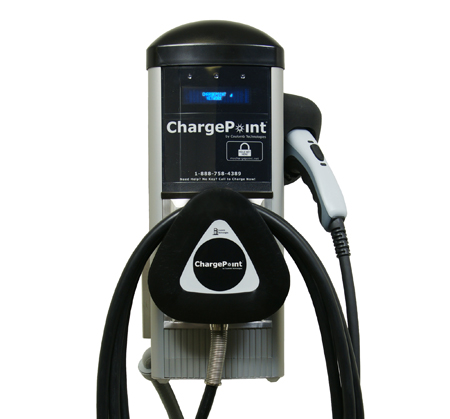 Coulomb said it has a bunch of its ChargePoint charging stations available for installation starting now, and plans to have more than 1000 new public locations in place by the end of the year. This will be followed by the remaining ones by September 2011. As for the three automakers joining with Coulomb in this program, the Chevrolet Volt, the Ford Transit Connect Electric and Ford Focus Electric through the "Ford Blue Oval ChargePoint Program", and the smart fortwo electric drive will be supported in the regions mentioned. Those wanting charging stations will need to apply, with different application processes being offered for private individuals as well as businesses interested in receiving public charging stations.
Like what you are reading? Did you know EarthTechling writes up in-depth reviews of green technology products? Check it out!