What could ultimately end up as the first fresh water offshore wind farm in the United States took greater form today as Lake Erie Energy Development Corporation (LEEDCo) of Northern Ohio joined hands with GE in a partnership which will see the latter providing the former "direct-drive wind turbines to LEEDCo's 20 megawatt offshore wind project in the Ohio waters of Lake Erie."
This partnership is viewed by the The Great Lakes Energy Development Task Force and others in the area as a strong push towards establishing an offshore wind industry on Lake Erie and "leveraging the region's strong manufacturing base." GE will be putting to work in this initiative one of its newest wind turbine designs, a 4-megawatt machine "designed specifically for offshore deployment" and the largest in GE's wind turbine line up.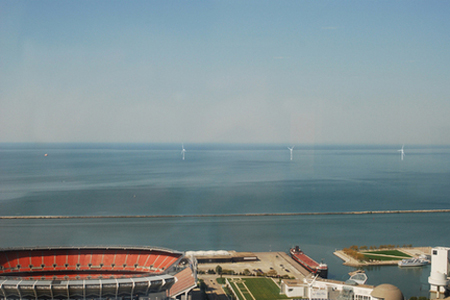 This project, reported The Plain Dealer back in March, would see wind turbines appearing in Lake Erie as early as 2012. Beyond the initial 20-megawatt farm, GE and LEEDCo will be working together on "subsequent projects with a long-term goal of 1,000 megawatts in the Ohio waters of Lake Erie by 2020."
Like what you are reading? Did you know EarthTechling also does lengthy and original features on green technology? Check it out!