As Americans, we want to have our cake and eat it, too. The cake in this case being a green version of our ginormous, energy and resource-intensive homes. Dow Chemical and Cobblestone Homes, as reported by Treehugger, have recently teamed up to show us exactly how unsustainble that desire really is, albeit inadvertently.
According to the manufacturers, this Bay City, MI, Vision Zero demo house is green because it includes ground source heat pumps, solar shingles, and solar hot water. Never mind the fact that it is 3,400 square feet, includes a 3-car garage, features $ 78,400 in energy upgrades (which will pay for itself in just 22 years, given current energy prices) and is virtually a palace of plastic, thanks to Dow, its big "green" parent.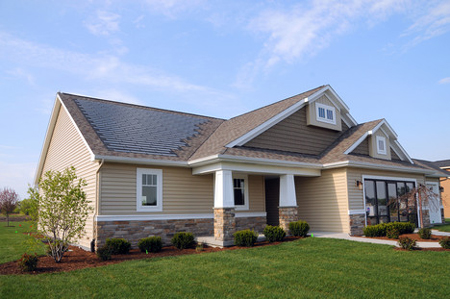 In calling this a net-zero house, the manufacturers are certainly not taking into account the energy required to produce all of those brand-new synthetic building materials–again largely plastic and vinyl, which residents will have the pleasure of inhaling. Same for all that super-efficient Dow Thermax insulation. Yikes.
Like what you are reading? Did you know EarthTechling writes up in-depth reviews of green technology products? Check it out!