Is it possible a souped up, electric conversion of an old VW Beetle could beat the hot as poop Tesla Roadster in a drag race? Seeing is believing most people say, and if you watch the video at the end of the story you'll note that yes, in fact, it looks like what is called the Black Current III home grown electric car project beat the mighty Silicon Valley creation going electric toe to electric toe.
Now we can't say with certainly all of the conditions under which this race took place (i.e. what shape the Tesla is in, how heavy the foot of its driver is, etc), but we do know this according to Ecofriend: the VW Beetle beat the Roadster off the mark by more than 1.5 seconds. The Black Current III is the DIY project of two brothers, who've built it as the third evolution of a self described electric powered beetle dragster.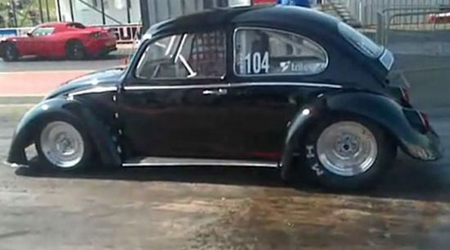 The Black Current III has running gear which includes 60 Odyssey PC680 batteries strung out in two parallels of 30 each and Impulse 9-inch electric motors placed between the driver and passenger feet. All total one ends up with "about 1200lb ft of torque, a 0-60 time of about three seconds and a terminal velocity at the end of quarter-mile of 114mph." This was enough apparently to record "an 11.24sec ¼-mile run at Santa Pod recently." So sorry Tesla!