Americans who think New York is crawling with taxicabs must not be familiar with Tokyo's yellow-car population: Japan's capital is home to approximately 60,000 taxis, which, according to electric vehicle (EV) service provider Better Place, is more than London, Paris, and New York combined. As a method of keeping Tokyo's taxis up and running, Better Place has partnered with Japanese Ministry of Economy, Trade, and Industry, and Tokyo taxi operator Nihon Kotsu, to demonstrate the world's first switchable-battery electric taxi.
For the project, Better Place and Nihon Kotsu will operate three switchable-battery electric taxis available on the first floor of the Roppongi Hills Complex. "Battery switch delivers an 'instant charge'," according to Better Place, "a fully charged battery in less time than it takes to fill a fuel tank with petrol or recharge via other charging methods while 20-30 minute quick charge is impractical for such use."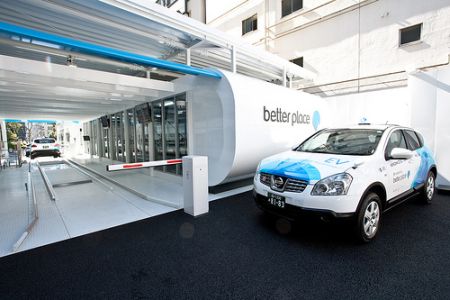 The switch station in Tokyo features nearly continuous operation of switching batteries for the three electric taxis while also allowing for the optimizing of battery life and performance, which can be monitored in real-time. The project will span 90 days and marks a single stage leading up to a system test of all components.